The future of urban transportation likely rests with downsized cars capable of fitting into smaller parking spaces. Toyota Group and the National University of Singapore (NUS) will carry out a one-year road test of micro EVs on the school's primary campuses. Toyota will supply 10 Auto Body COMs to NUS through the company's Tsusho Asia Pacific subsidiary. NUS will incorporate these diminutive EVs into fleet operations on its Kent Ridge and University Town campuses. This three-phase test should confirm Toyota's belief that micro EVs are ready for mass mobilization in urban centers around the world.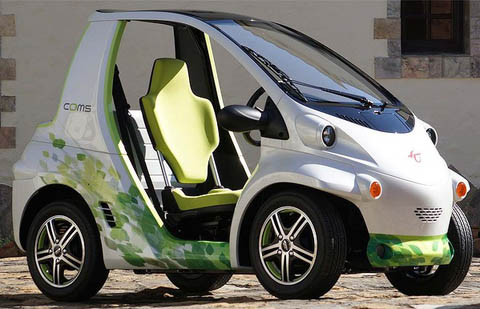 The Auto Body Chotto Odekake Machimade Suisui (COMS) translates into "smooth, short rides into town." Toyota uses a small electric motor and lead-acid batteries for fully electric operation up to 28 miles per charge. A maximum speed of 31 miles per hour extends battery range while providing sufficient power for local trips.
Each Auto Body COMS requires about eight hours for a full recharge, which can be completed overnight at campus depots. Engineers at Toyota slimmed down the Auto Body COMS frame to 661 pounds compared to 3,042 pounds for the Prius Hybrid and 2,295 pounds for the Yaris.
Researchers at NUS and Toyota have recruited 30 staff members to participate in the road test. A total of 160 students, staff and faculty members could be involved by the conclusion of the trial. Toyota will install a data collection hub at each campus to gather driving information including battery range and performance statistics.
NUS and Toyota are partnering on public charging infrastructure for this trial likely to remain in place beyond 2013. A successful trial could yield a self-service rental program, multiple charging stations and designated lanes for EVs at NUS.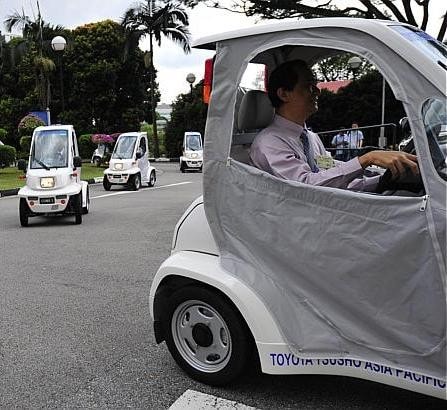 This micro EV study will use four criteria to determine how the Auto Body COMs could be incorporated easily into city life. Researchers will determine the environmental and economic impacts of micro EVs in Singapore as a sample for EV use in major metro areas.
Toyota and NUS will determine commuting behaviors and assess methods of controlling traffic for maximum EV range. This data also factors into Toyota's assessment of the best placement for EV chargers at NUS. A final goal of the micro EV study is to assess regulatory and policy changes necessary for broader adoption.
Micro EVs like the Toyota Auto Body COMS should become a priority for public and private leaders interested in sustainable transportation. Increases in concentrated urban populations around the world equal fewer parking spaces and limited spaces on roadways. Consumers interested in navigating through city streets should flock to micro EVs when they are available.
Toyota Group also recognizes that solo trips are very common among commuters and corporate fleets. A single-seat EV eliminates unnecessary space, keeps curb weight down and increases battery range. The trend toward grotesquely oversized trucks and SUVs clogging roads should give way to sensible vehicles that maximize urban space. The next step forward is to incorporate plug-in chargers into the urban landscape.