Renault Trucks established its Clean Tech label in 2010 to attract commercial clients interested in sustainable transportation. The latest entrant in the Clean Tech fleet is an all-electric refrigerated truck dubbed the e-Truck developed in partnership with Nestle Switzerland. The e-Truck will only be used on selected routes in Switzerland with no immediate plans for mass production. Renault Trucks also partnered with utility firm Romande Energy to produce green power for the e-Truck. This holistic approach to plug-in transportation is necessary for commercial shippers that accumulate high mileage and fuel costs.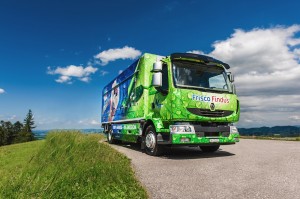 The Renault e-Truck combines a refrigeration system powered entirely by electricity with drive components from the 13t Renault Midium. The drive train includes a 103 kW electric motor as well as a pair of lithium-ion batteries capable of holding 170 kWh. Renault Trucks included a regenerative braking system to recharge batteries during frequent starts and stops. A maximum speed of 56 miles per hour allows the battery to last longer but provides enough speed for city streets. The e-Truck can travel up to 87 miles per charge, providing optimal range for Nestle Switzerland's local routes.
Renault Trucks and Nestle Switzerland plan extensive testing over the next year that should inform the design of a production e-Truck. The first e-Truck delivered to Nestle this month will be joined by a second unit in September. Nestle Switzerland plans to use the e-Truck for ice cream and snacks sold under the Frisco-Findus label. These trucks will be assigned routes in Zurich and Lausanne that cover up to 60 miles each day. Renault Trucks and Nestle expect each truck to complete about 50 stops each day with a total payload of three tons. Road testing will allow engineers at Renault to examine battery range, motor performance and the durability of the all-electric refrigeration unit.
The Clean Tech label has yielded several success stories for Renault Trucks dating back to 2010. Renault delivered the Premium Distribution Hybrys truck to sanitation officials in Lyon, France and Coca-Cola distributors in Belgium. The Premium Distribution NGV powered by compressed natural gas (CNG) was delivered to businesses in 2011 and currently operates in seven European countries. Renault Trucks expands the Clean Tech mark not only with the e-Truck but a partnership with Swiss utility Romande. Distribution centers in Vevey and la Tour-de-Peliz will use solar panels to power electric trucks and supply excess energy to nearby communities.
Automakers around the world have warmed to the comprehensive approach taken by Renault Trucks toward priming the plug-in vehicle market. Executives at Renault Trucks and parent company Volvo understand that plug-in vehicles cannot survive without infrastructure. This urgency has fueled partnerships like the Renault-Nissan Alliance, which has partnered with utilities worldwide to develop charging infrastructure. The Clean Tech line of medium-duty trucks also solves significant problems facing the shipping industry. Companies like Nestle Switzerland contribute significant carbon emissions while struggling with fluctuating fuel prices. The e-Truck might not be the sexiest vehicle on the road but Renault Trucks imparts the importance of substance over style to other automakers.