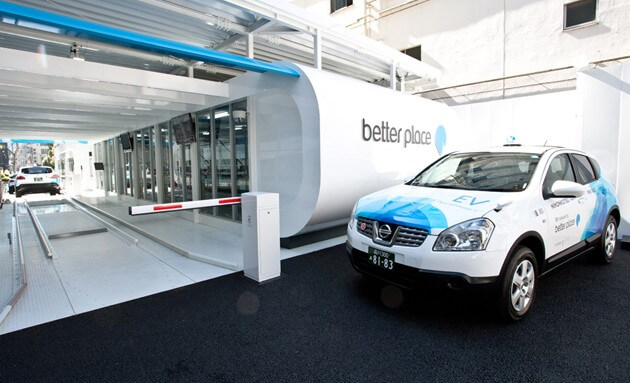 Better Place began in 2008 with the novel idea of establishing EV infrastructure as convenient as the local gas station. This California-based firm developed a battery-swapping station that automatically replaces a spent battery in about five minutes. Agreements with local partners in Denmark, Australia and Israel have yielded charging infrastructure available to commuters on the move. The company has recently established partnerships in China that could revolutionize the global EV market. Better Place's latest achievement is the release of electric vehicles compatible with proprietary technology in Israel. The company is now arranging leases for Israeli customers interested in the Renault Fluence ZE.
The Renault Fluence ZE has been designed to work seamlessly with Better Place's swapping stations and chargers. This all-electric vehicle features a 70 kW electric motor and 22 kWh lithium-ion battery pack. Better Place estimates that the Renault Fluence ZE can travel up to 115 miles per charge with a maximum speed of 84 miles per hour. Operators currently have access to 10 swapping stations extending from Kiryat Gat to Elyakim. The Better Place network in Israel should reach 38 stations by September, allowing commuters to travel the country's length without range anxiety.
Union Bank of Israel will work with Better Place to oversee financing for the Renault Fluence ZE. A financing agreement includes a monthly fee as well as 48 monthly payments toward the loan. Better Place hopes to attract customers to the pay-and-drive option in hopes of more upfront revenue.
This option requires motorists to pay rates of 55 agorot per kilometer though they must prepay for 40,000 kilometers over three years or 50,000 kilometers over four years. Another option for Israeli consumers is a pay-as-you-go plan with a rate of 65 agorot per kilometer. This option requires the user to drive at least 1,000 kilometers per month or transfer excess mileage to future months.
Israeli businesses and individuals have likely seen Better Place logos during their daily commutes. The firm already leased 250 vehicles to Better Place employees, government agencies and select individuals in March. Better Place anticipates leasing for 4,000 units by next summer in Israel, an ambitious goal given economic difficulties and previous delays.
An aggressive promotional campaign by Better Place will encourage Israelis to consider electric vehicles rather than gas-guzzling models. This campaign uses the slogan "It's not for everybody" in Internet ads, TV spots and magazines to make prospective customers feel like part of an exclusive club.
Better Place faced a number of obstacles in establishing EV infrastructure in Israel. The company targeted this release for the spring but pushed the date back earlier this year. CEO Shai Agassi cited a laborious permitting process as the primary reason for building delays. Better Place also confronts an unfavorable economic environment where major automakers have already dampened sales expectations for plug-in vehicles.
The ambitious vision set out by Mr. Agassi in 2008 was fueled by a robust economy and growing interest in green vehicles. Utilities, businesses and consumers alike will hopefully take the longer view in supporting EV infrastructure through firms like Better Place.