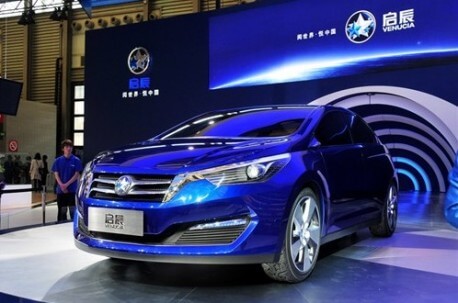 Nissan Motors has been creating partnerships for greener transportation since the late 1990s. The Japanese automaker partnered with Paris-based Renault in 1999 to develop zero-emissions vehicles for consumers from Brazil to India. Nissan recently initiated a partnership with Mitsubishi to produce fuel-efficient city cars for Japanese consumers. Collaboration between Nissan and Sumimoto will hopefully yield solar-powered charging units for plug-in vehicles. The latest partnership for Nissan involves Dongfeng Motor Group, a Chinese automaker interested in electrifying its fleet. This collaboration is investing in a $785 million plant in Dalian as well as delivery of the Venucia EV by the 2015 model year.
Nissan and Dongfeng formed a joint venture called Dongfeng Motor Co. and invested $785 million in a manufacturing facility in Dalian. Nissan plans an initial run of its own vehicles in 2014 with a production quota of 150,000 in the first year. Dongfeng Motor Co. will expand production lines and resources to meet a second-year goal of 300,000 units per year.
The first 1,000 Venucia EVs produced at Dalian are heading for the Dalian Municipal Government as part of a pilot program. Dongfeng and Nissan are coordinating at the moment on charging infrastructure, maintenance and utility issues related to the Venucia EV rollout.
The Venucia EV is the second model produced by Dongfeng Motor Co., following the D50 released this spring in China. The D50 is a highly efficient model featuring an 86kW gas engine and lightweight frame. Nissan's presentation at the 2012 Beijing Motor Show in April noted that the Venucia EV should roll off the line by the end of 2014.
Dongfeng Motor Co. plans an annual sales target of 300,000 units for this EV concept within the first year. The Venucia EV should be joined by at least four additional models sold across 250 outlets in China by late 2015.
Nissan Executive Vice President Hiroto Saikawa noted that this joint venture is entirely focused on China for several reasons. China represents Nissan's largest market at present with enormous growth potential due to an expanding middle class. Mr. Saikawa combines the upcoming Dailan facility with plants in Huadu, Ziangyang and Zhengzhou in painting a rosy picture for annual output.
An annual sales target of two million units by 2015 by Nissan would generate revenue necessary for an expansion of the Venucia EV line. Executives at Nissan also appreciate the leverage provided by Dongfeng Motor Group in cracking open a difficult Chinese market.
Nissan's efforts to break into the Chinese market are wrought with peril despite Mr. Saikawa's confident outlook. Chinese automakers have trumped up EV production by selling largely to government officials and state corporations rather than consumers. The Chinese market seems riper for electric bike and neighborhood electric vehicle manufacturers due to traffic congestion, cost and portability.
Nissan and Dongfeng hope to leverage the former's industrial clout around the world in order to compete in this rapidly growing market. This venture might require far more patience than usual in the auto industry as well as a more diverse lineup available at lower prices.