Tesla Motors is releasing the sporty Model S this fall in hopes of diversifying its fleet. The Model S uses an enhanced drive system compared to the original Tesla Roadster while providing a luxurious ride. The Environmental Protection Agency (EPA) provided some fuel for Tesla's marketing efforts by releasing performance details for the Model S. Early adopters of the Tesla Model S could achieve fuel economy of 89 miles per gallon equivalent (MPGe) with an 85kWh battery pack. These details are encouraging for customers who placed sizable deposits and Tesla founder Elon Musk in the midst of difficult market conditions.
The heart of the Model S is a supercharged electric motor powered by an advanced lithium-ion battery pack. Tesla offers four battery options including the 40kWh, 60kWh, 85kWh and the high-performance 85kWh pack. Each battery pack is covered by an eight-year warranty that should ease concerns about battery reliability. A 10kW onboard charger allows for a 12-hour charge time using a 240-volt outlet though the Supercharger feature cuts charging times by 61%.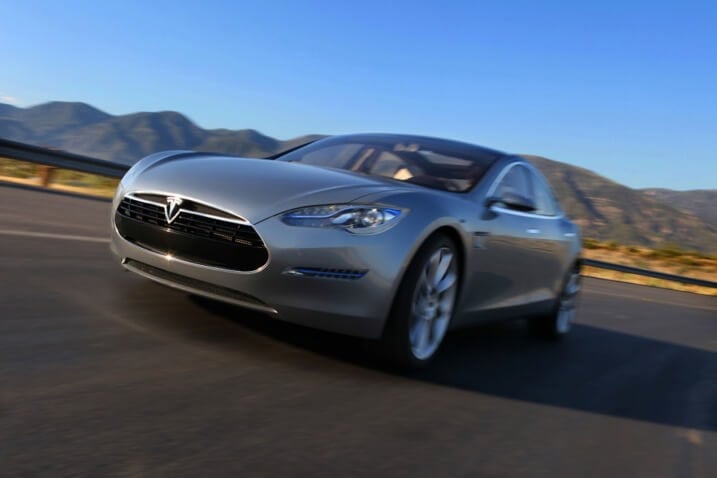 EPA's 89 MPGe was calculated using an 88 MPGe rating for city driving and 90 MPGe for highway driving. The 85kWh battery pack uses 38kWh per 100 miles based on a 38 kWh estimate for city driving and 37 kWh for highway driving. Estimates for the 40kWh and 60kWh battery packs were not published by the EPA. The top speed for the 85kWh version of the Model S is 125 miles per hour. Tesla estimates that the Model S can hit 60 MPH from a full stop in 5.6 seconds though the time decreases to 4.4 seconds for the limited-edition Performance model. EPA estimates a per-charge range of 265 miles for the Model S, a slight reduction from Tesla's 300-mile estimate.
Tesla looked beyond a zero-emissions drive system when constructing the Model S. The carbon-fiber frame is evenly distributed between front and rear axles for a smoother ride. A panoramic glass roof provides a great view while blocking 98% of outside light and 81% of heat.
The Model S uses 19-inch tires with maximum aerodynamics capable of increasing range by up to 5%. Tesla also avoided the use of PVC for interior components, thus reducing significant waste during production. This five-seat sports car also offers 36.8 cubic feet of storage space for errands and weekend trips.
The high cost of building electric vehicles remains a significant issue for Tesla Motors. The Model S is priced from $69,900 even after a federal tax credit of $7,500. Promotional materials note that the 40kWh model is priced at $49,900 and 60kWh model at $59,900 though performance is notably inferior to the 85kWh.
Mr. Musk would be quick to note that the Model S is available at a significantly lower figure than the Roadster's $109,000 price tag. This latest foray into the EV market should be more successful than the Roadster, which suffered fits and starts due to limited funds. Tesla's next step after the Model S is to aim for a broader market by combining existing drive components with a more approachable design.