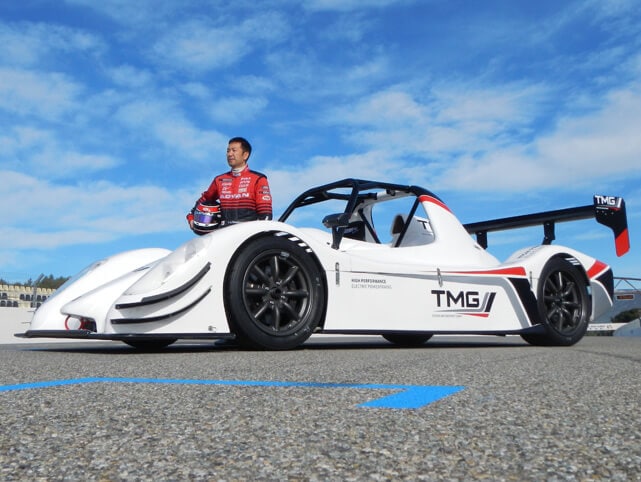 Toyota Motorsports first ventured into all-electric racing in 2011 at the Nürburgring Nordschleife in Germany. The team's TMG EV P001 race car set the course record for an all-electric vehicle with a lap time of 7 minutes, 47.794 seconds. This time pales in comparison to the all-time lap record of 6 minutes, 11.13 seconds by Stefan Bellof in 1983. Engineers at Toyota Motorsports spent the past year improving on the EV P001 for a more competitive environment. The TMG EV P002 emerges from the testing phase for a demonstration during the upcoming Pikes Peak International Hill Climb.
The TMG EV P002 builds on the drive system, electronics and performance standards of its predecessor. A 42 kWh lithium battery developed by Li-Tec Battery recharges easily using a DC charging unit. Toyota Motorsports included a pair of EVO electric motors capable of producing maximum output of 350kW.
The EV P002 is specially designed for the thin air of Pikes Peak with a single-speed transmission and advanced electronic controls. Maximum speed for the EV P002 is 149 miles per hour compared to 162 MPH for the EV P001 though the latter model would suffer greater power loss in mountain driving.
Toyota Motorsports became confident in the TMG EV P002 during a recent test run at the Circuit Paul Ricard in Le Castellet. This test included three days of maintenance, PR events and racing on a relatively flat track. The TMG EV P002 handled the course's 39 turns with ease and improved times with each lap on the 2.36-mile route.
The Circuit Paul Ricard is a favorite among race teams interested in showing off new vehicles because of a long straightaway and low elevation. Toyota Motorsports saw enough of the TMG EV P002 along with its predecessor to enter the Pikes Peak event without reservations.
Driver Fumio Nutahara faces a daunting task during the July 8th race at Pikes Peak. The Pikes Peak route climbs from a starting altitude of 9,186 feet to a maximum height of 14,000 feet. Past participants in the race suffered 30% decreases in engine output due to thinner air. Mr. Nutahara must contend with a 12.4-mile route featuring 156 turns ranging from paved streets to narrow gravel roads.
Organizers of the Pikes Peak International Climb estimate more than 200 competitors this year across 16 vehicle categories. This highly competitive event allows Toyota Motorsports to compare the EV P002's performance against the best vehicles in the world.
Events like the Pikes Peak International Hill Climb provide important proving grounds for the next generation of EVs. Auto racing tests the latest motors, wheels and design techniques years ahead of similar advances in the passenger vehicle market. A successful demonstration at Pikes Peak allows Toyota to disprove skeptics concerned about the durability and power of EVs.
An influx of sponsorships and advertising dollars to Toyota Motorsports would encourage similar trends toward all-electric models by competing teams. The TMG EV P002 will not be hitting Toyota dealers in the near future but this high-performance vehicle provides an important platform for EV innovation.