In the Miami area? You can test drive a smart electric drive on Saturday, June 8 (noon-8 p.m.) and Sunday, June 9 (10 a.m-6 p.m.) at 210 NW 22nd Lane (corner of NW Second Avenue and 22nd Lane). Smart will have "funtest ambassadors" waiting curbside with "locally-sourced treats" for test drivers Drivers can also enter to win an opportunity for a smart electric drive lease.
Why is the launch of the 122 city mpg 2013 smart fortwo electric drive a big deal? Because this is the third generation of this zero emissions, all-electric mini car. This means the kinks have been worked out in the first two generations (hopefully!) and the 2013 smart fortwo electric drive could possibly be the most intelligent green car buy today. Really? Yes, really.
First off, let's start with price. The third generation 2013 smart electric drive starts at a base MSRP of $25,000, which smart claims makes it "the most affordable production EV in the USA." The open-top "cabriolet" model costs $28,000. Now comes the really good part. With an up to $7,500 federal tax credits, the gas-free smart electric drive could cost you just $17,500 (or even less with further state and local tax credits!).
Greenest Car in the World?
What you may not know is smart — which is owned by Mercedes-Benz parent company Daimler – is manufactured from the ground up to be the most green vehicle on the planet today. Smart claims its smart electric drive has the "smallest footprint of any U.S. cars on the road." That's because smart started with the basic premise of being a green company first rather than looking at the company as primarily a vehicle manufacturer.
Smart introduced its first vehicle in 1998 as a compact two-seat city vehicle. Now built in Hambach, France (also known as "smartville"), Smart is possibly the world's most eco-friendly car brand with green technology built into almost all of its processes, powertrains, parts and paints.
In addition to gas-powered smart fortwo models, Smart has a super clean diesel model. The first generation smart electric drive was introduced in 2009 to America. Smart even claims its clean diesel-powered model, which is only available in Western Europe, is the "world champion in terms of low CO2 emissions."
I'm not so sure about that. Why drive on petro dollars when you can get almost free energy with a smart electric drive? If this car lover is going to sacrifice a seat, then I'd certainly want to never see a gas station again. Ever.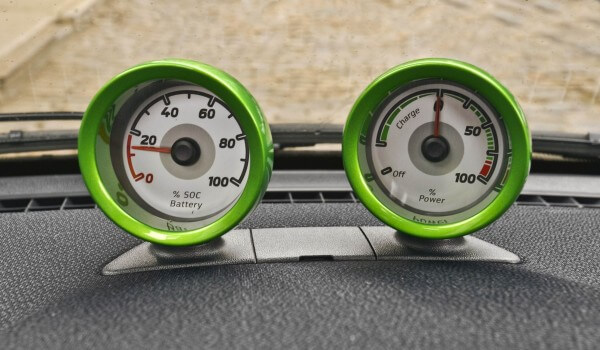 Smartest Car in the World?
Let's get real. Smart only has two seats. It has a tiny cargo space. It's just small. There are times, however, when small can be very, very good. Here's my list of pros and cons regarding smart and smart electric drive:
Pros
Fits in impossible parking spots (even crosswise!)
Gas free, zero emissions and excellent fuel efficiency at 122 mpg city!
EPA-estimated 76 miles per charge although real life driving is around 90 miles per charge
Über eco-friendly parts and paints
Interior large enough for two rather tall and wide adults
Super safe for small size
Funky modern styling inside and out
Easy to charge up especially as new fast-charge stations are popping up
Cons
High price for just two seats, little cargo space and minimalist design
Regenerative braking can feel quite tight to EV newbies
Not good for fast highway driving
Tiny wheelbase plus high roof equals not much torque in turns
Charging station infrastructure in USA not yet mature although rapidly expanding
Smart Road Test
In 2009, this Mommy auto journalist took her very first smart car on a weeklong road test. I had already tested most all of the road-worthy and in-production electric vehicle models by that time, so I was well acquainted with EV performance, charging and range anxiety. I had also road tested several gas-powered smart vehicles as well.
For the exterior, I noted the smart fortwo "definitely gets attention." I also loved the overall design. "The tiny wheelbase, high roof and stubby front end (because the engine is mounted in the back), give the smart fortwo an utterly distinctive style that no other brand can match."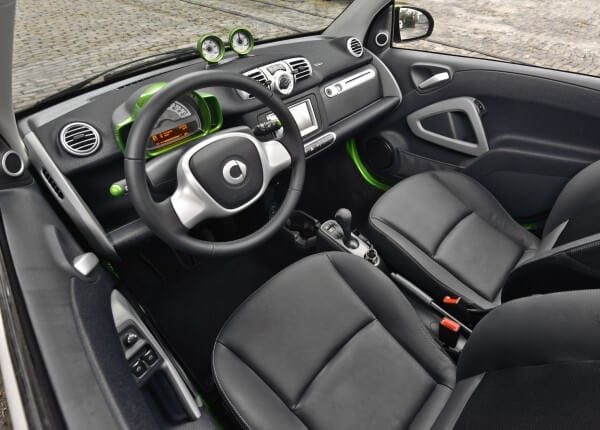 I am a stickler for interiors. It's my thing. What did I think about driving smart for a week with my family in tow? "Although the Smart Fortwo only holds two passengers, the large side doors allow for super easy access for both driver and passenger. The funky-looking booty on the smart just adds to the vehicle's silly sophisticated design."
Plus, my first brand new car purchase was a two-seater 1985 Honda CRX. So, you could say I love cheap roadsters. What about the smart's cockpit? Here's what I said then: "Although considered a 'supermini' vehicle, the driver's cockpit has generous room for even tall and wide drivers."
I also loved how my road test smart fortwo "was chock full of European minimalism inside, including quality materials, handsome textures, burnished chrome accents and a very unique roll-away soft top." And yes, the 2013 smart electric drive is available in a cabriolet edition!
And what about cargo space? How much do you sacrifice with smart? "The hatchback is super small (12 cu. ft.), but I was certainly able to fit lots of grocery bags and even enough luggage for a weekend getaway for two," I noted.
As for performance, smart may be the only car line where the electric version drives better than the gas-powered model. Smart has always been know for what I called its "jerky automotive transmission" that  feels "like you are changing gears on a rather old motorcycle," I once wrote. Ouch!
Being a crazed auto enthusiast, of course, "I grew fond of its performance quirks and quite enjoyed the spunky acceleration, handling, steering and suspension" around town. NOT on freeways. "On fast open highways, I was quite disturbed when this tiny car seemed to be easily buffeted by winds and large trucks. I did get the smart fortwo up to its top speed of 90 mph for a minute or two until I felt way too unsafe at high speeds."
Getting Off the Petro Dollar
Fortunately, the 2013 smart electric has stopped the cycle of both this three-cylinder gas engine and petro dollar abuse at the same time. The 2013 smart electric drive is powered by a "magneto-electric motors that's installed between the rear wheels in place of the conventional engine," so says smart.
As with any EV, the electric motor does not use gears (as in those jerky  "motorcycle" motors in gas-powered smart cars), so drivers get "instant high torque." This new generation electric powertrain was built as a joint venture between Bosch and Daimler. Using a 55kW electric motor, the smart electric drive delivers 35kW of "continuous power that translates to 96 lb.-ft. of torque," claims smart.
What does that mean for drivers? Smart says the 2013 smart electric drive can go from zero-60 mph in less than 12 seconds and has a top speed of more than 78 mph. Do you need any more power than that for trips to the farmer's market, school and about town and especially if you never need fill up at a gas station again? Sounds smart to me!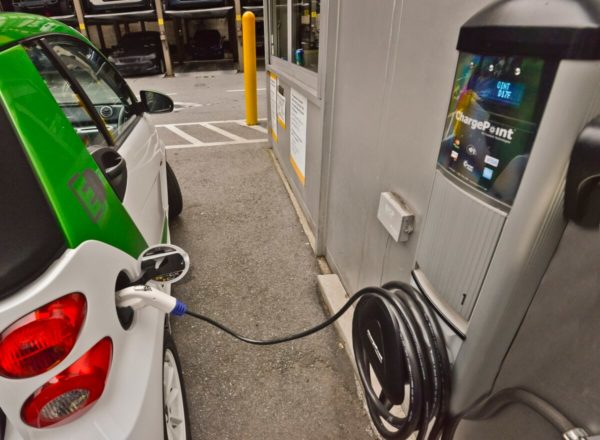 Batteries & Charging
What about batteries and charging? Smart say its new third generation lithium ion batteries (LIBs) "boast shorter charging time, better performance, longer life and higher reliability than other battery technologies." Smart claims the LIBs inside its 2013 smart electric drive deliver 17.6kW hours of electric power with an efficiency of 110 Watts per kilogram.
What does all that mean to you the smart owner? It means your no-petro-dollar roadster achieves 122 city mpg if you want to consider the gas equivalent. Or, you can look at it this way. It's gonna cost you about a dollar each night to charge up your smart electric drive to run another 76-90 miles maximum.
So, how does charging work? The 2013 smart electric drive can be charged from any household 110-volt wall socket with the car's standard cable.
Or, owners have to get a professional electrician to install a 240-volt socket to get a 20-80 percent charge in just 3.5 hours. For thousands of dollars, EV owners can also purchase fast chargers, which can cut down charging times to just 30 minutes for an 80 percent charge.
Like other EVs, smart provides a smartphone app for cool ways to set a charging timer and other things like finding nearby charging stations and tracking available battery range.
Smart Fortwo & Safety
The Smart Fortwo is actually more safe than its tiny size would indicate. Mercedes-Benz safety engineers developed the Smart Fortwo from a "steel core known as the tridion safety cell" and a "flexible body shell made of dyed thermoplastic body panels." What this means is that the car's body acts "like the hard shell of a nut to protect the car's occupants," so says Mercedes-Benz.
In addition, the 2013 smart electric drive comes equipped with standard full-size air bags, electronic stability control (ESC), traction control, anti-lock brakes, hill start assist, a rain/light sensor and halogen projection headlamps.
Can it be true that Smart really is smart when it comes to safety? Yes! In fact, the 2013 smart electric drive meets the super demanding safety standards not only of Mercedes-Benz itself, but also of the super tough EuroNCAP requirements (the European equivalent to the U.S. National Highway Traffic Safety Administration.)
So, are you still excited about smart electric drive? You should be. For those who can live with just two seats, smart electric drive is a way to be super green, get around in style and never pay into the petroleum machine every again.