At the Geneva car show in May, Ferrari unveiled its first hybrid supercar. A handful of select buyers, 499 of them to be exact, will be the proud owners of the new "LaFerrari," the fastest Ferrari ever made and, not surprisingly, the most expensive. Although Ferrari hasn't announced a price, Autoweek estimates it will surpass the Enzo with a price tag of $1.3 million USD.
"We chose to call this model LaFerrari because it is the maximum expression of what defines our company – excellence. …Aimed at our collectors, this is a truly extraordinary car which encompasses advanced solutions that, in the future, will find their way onto the rest of the range."
Luca di Montezemolo, President, Ferrari S.p.A. (1)
Executives are giving purchase preference to Ferrari collectors and enthusiasts (Ferraristis) as opposed to speculators and traders. All buyers must currently own at least two Ferraris. Each LaFerrari will be custom made, complete with a driver's seat that will be fitted and molded to its new owner's shape.
The Coolness of the LaFerrari
Maximum speed over 200 mph (2)
0 to 62 mph in less than 3 seconds
0 to 124 mph in less than 7 seconds
0 to 186 mph in 15 seconds
The interior design is race car inspired (3)
Exterior design was led by Flavio Manzoni, an Italian supercar designer
Fixed driver seat; control modules and pedal are adjustable
How Ferrari's Hybrid Technology Works
The hybrid technology developed specifically for the LaFerrari is a stepping stone to what will be used in all future Ferrari models. The LaFerrari runs on a HY-KERS (that's Hybrid Kinetic Energy Recovery System) system. In this system, the electric motor runs with the gasoline engine, combining forces for maximum power output. (4) This would technically qualify as a mild hybrid system similar to the Honda Civic or a Chevy Malibu. However, the difference is that the Ferrari boasts the Formula 1 turbocharger-style power output, appearing for the first time in a hybrid.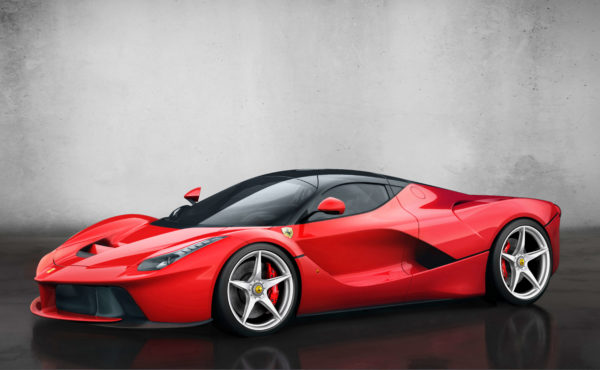 That being said, gas mileage is not the LaFerrari's strong suit as it comes in at a mere 16.6 mpg. This will change when future Ferraris incorporate the power from the current setup into a fully active hybrid system. Currently found in lesser performing cars like the Toyota Prius, an active hybrid's battery power and gasoline power sources alternate propulsion duties one after the other. This allows some distances to be driven under electric power only, and, when incorporated into the new Ferrari line, mileage will be significantly boosted without losing performance. This is a tremendous breakthrough in the sports car market.
LaFerrari is an energy conserver. During braking and when the engine is producing more torque than needed to power the car, these are converted to energy and stored in the 60 kilogram battery.
LaFerrari vs. Tesla Roadster
Even at this stage, the LaFerrari is the most powerful non-traditional automobile ever produced. Previously, the Tesla Roadster could have argued that claim. The Tesla boasts a 215 kW electric motor, hitting 0-60 in 3.7 seconds, a top speed of 120 mph and a 302 hp output at 6,000 rpm. The Tesla's performance is enhanced by cutting edge aerodynamics and a lightweight aluminum chassis. For a fully electric car, these specs are nothing but phenomenal.
Simply put, the LaFerrari blows the Tesla Roadster completely out of the water. A 6.26-liter V-12 gas engine combines with a powerful electric motor, taking it from 0-62 mph in less than 3 seconds, 0-124 in less than 7 seconds and 0-186 mph in 15 seconds. A separate electric motor powers the interior electronics and doesn't drain power from the engine, so the 7-speed dual-clutch transmission commands the full 963 hp (!!!) output at just over 9,000 rpm, reaching a top speed of 217 mph. Performance is enhanced by an ultra-lightweight body made of four types of carbon fiber. Advanced electronics offer further enhancements through active aerodynamics and chassis adjustments. Spoilers and flaps automatically deploy for downforce when needed. Yes, it just knows.
La Ferrari even outperforms other high-end gas-powered cars. Just consider some of the other new releases in Geneva. The Jaguar XFR-S sports 550 hp, 0 to 62 in 4.6 seconds and a top speed of 185 mph. The Rolls-Royce Wraith has a transmission wired into its GPS, prepping the engine to automatically adjust for climbs, descents and turns. The Bentley Continental Flying Spur has an eight-speed transmission. Even if all of these features were found in one car, it still wouldn't come close to the LaFerrari.
The real victory here is that Ferrari has outdone even itself. Before the LaFerrari, its crown jewel was the F12. On the Ferrari test track in Fiorano, Italy, the LaFerrari clocked in at 1:20, cruising past the F12's record time of 1:23. The LaFerrari also gets an additional mile to the gallon over the F12 and emits 10% less CO2 in the process, besting it in efficiency as well.