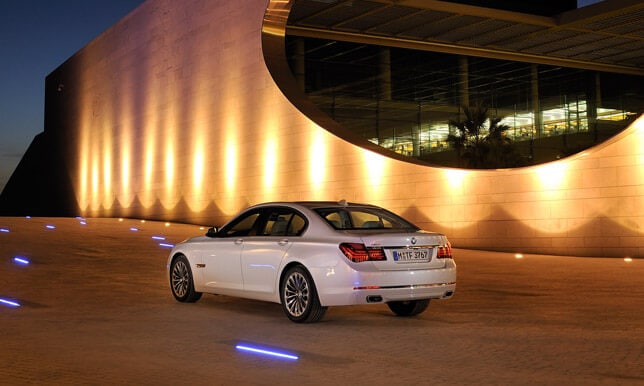 BMW announced plans for upgraded versions of their 7 Series for the 2013 model year including a revised version of the ActiveHybrid 7. Traditionalists can choose from improved models like the 2013 BMW 750Li that hits 60 miles per hour from a dead stop in 4.7 seconds. The 750Li headlines a slate of standard models heading to BMW dealerships in the United States this summer. BMW has also announced details about the ActiveHybrid 7 that achieves an overall fuel economy improvement of 14% compared to the previous version. The ActiveHybrid 7 will reach BMW showrooms throughout North America by September 2012.
The ActiveHybrid 7 drive system is built around a 3.0-liter engine that can produce 235kW. This engine replaces a more powerful V8 engine that does not fit into the fuel-efficient ethos of the new 7 Series. A 41kW electric motor and lithium-ion battery pack supports the engine at low speeds and shows a path toward all-electric vehicles for BMW. The ActiveHybrid 7 uses an eight-speed Steptronic automatic transmission that has been finely tuned to avoid inefficiencies due to clunky gear changes. BMW also included features like regenerative braking and Auto Start-Stop that conserve energy during daily commutes.
Motorists interested in customizing their driving experience can access five modes from the interactive central console. The ECO PRO mode in particular helps increase fuel efficiency by up to 20% for short bursts. This mode decreases power to air conditioning, power windows and other auxiliary systems in order to boost power to the motor.
The console also provides advice on eco-friendly driving including managed acceleration, coasting and proper braking technique during ECO PRO mode. Additional modes include COMFORT and SPORT as well as enhanced versions of both modes for traditional drivers. BMW also touts a coasting mode where the vehicle's advanced electronics can determine how long the driver can coast based on elevation, route and road conditions without engine power.
Engineers on the ActiveHybrid 7 team also added a 3D navigation system with 1.3 GHz of processing power to enhance the driving experience. This system uses an interactive screen in the central console to create fuller representations of the engine, motor and the vehicle exterior. The Real Time Traffic Information feature layers traffic data, weather details and GPS mapping to assist motorists. The ActiveHybrid 7 also contains speech recognition software that handles dictation, phone calls and text messaging in six languages.
BMW's performance estimates for the ActiveHybrid 7 show attention not only to power but fuel efficiency. This hybrid model can hit 60 MPH from a full stop in 5.5 seconds, a strong showing compared to the 750Li. Drivers can travel up to 2.5 miles at a top speed of 37 MPH using only electric power.
BMW used the EU testing cycle to determine that the ActiveHybrid 7 improves fuel efficiency by 14% compared to previous models. The redesigned 7 Series reduces fuel consumption from 14% to 25% over previous models. These improvements speak as much to the gas-guzzling ways of past BMW models as the technological feats achieved with the new 7 Series.