1. BMW i100
German car manufactures are well in tune with the demand for the eco-friendly car. Audi, Mercedes and Porsche either have hybrid models in production or have fully electric concepts ready for the future. Now BMW has stepped up with a production version of their Vision Efficient Dynamics concept coupe. Not only that, but an M version is also waiting production.
The non-M powered version will be called the i100 and is due to hit the market in 2013. This hybrid will be a plug in and will also use a three-pot direction-injection turbo diesel, offering around 170hp.
The M version will have a straight six under the bonnet from the next generation M3, a super capacitor helping it give a clean eco-friendly power boost.
Although an eco-friendly machine, it looks angry, sleek, and ready for the kill. Friendly or not, any BMW bearing the M badge is going to fun.
2. Tesla Model S
Tesla's Model S sedan is their first in-house vehicle. Their Roadster and Roaster Sport shared body shells with Lotus, but this S sedan is fully self-developed. Cheaper than the Roaster models at under $60,000, it offers great value.
As this is about Eco Sports cars, speed freaks will appreciate the S Performance model, which boasts an 85kWh battery and high performance drive inverter, plus carbon fibre exterior finishing touches. Throw in an extra $5000 and you can add a Nappa leather and Alecantra interior, sports suspension, traction control and 21" alloy wheels to the package. This S performance starts at $87,000 and a signature model limited to 1000 examples is the first to hit the 2013 market at $97,000.
Performance-wise, this sedan will hit 60 mph in an impressive 4.4 seconds – impressive stats since it weighs 3, 825 lbs and has a single speed transmission. Brembo brakes will stop this hefty sedan from 60 mph in just 135 feet.
If luxury and style are your top priorities in buying a fast car, this is the one for you.
3. Honda NSX Hybrid supercar Concept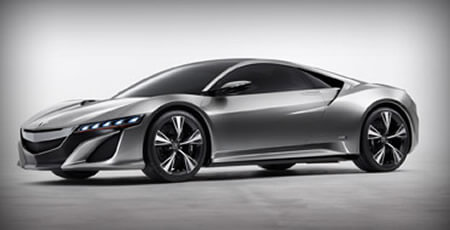 Two decades ago Honda produced their monster supercar, the mighty NSX, but since the NXS's cease in production in 2005, Honda has a Sport Hybrid version lined up for production.
This version is called an Acura and is slightly shorter than the original, giving it a compact look, although it still looks sharp and poised for speed. Under the bonnet there's a highly tuned, mid-mounted V6 engine that powers through a twin-clutch transmission.
Now for the hybrid part: there are two electric motors, one for each front wheel. A third electric motor is embedded within the gearbox to give the V6's power a boost. Like other hybrids, it has the ability to reclaim braking energy, making it fuel-efficient. So good is its performance, weight distribution and cornering, a racing version will also likely make an appearance.
Just like they did in the 90s, Honda has produced a light, reliable performance car, although this time round it will perform better and require less fuel.
4. Jaguar C-X75 – The Super Eco
Low on CO2 at just 99 grams and high in price at €800, 000 storms the new hybrid offering from Jaguar. Their C-X75 will use F1 technology whilst retaining very low fuel consumption. Jaguar's experience with light materials and hybrid technology stems from their experience with the Williams F1 team. A supercharged four-cylinder petrol engine powers this beast with two powerful electric motors positioned at each case on an axis, ensuring all four wheels are driven. The chassis is made from carbon fibre, making it extremely light, helping the fuel efficiency.
Only 250 are being made, but looking at its gorgeous, sleek design, coupled with its performance, I don't think they'll be any left by the time it hits the market – which isn't surprising; who wouldn't want a gorgeous sports car that can shift you to 60 mph in under 3 seconds whilst being economical at the same time?
5. Lexus GS450h Hybrid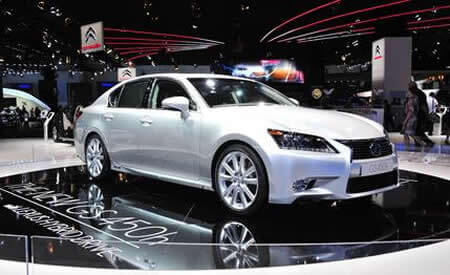 The first GS450h was quicker than the non-hybrid GS350, but didn't deliver when it came to the expected fuel economy savings. Not a good sign considering Lexus claimed a fuel-efficiency improvement of more than 30% versus the old car. Lexus took its corporate 3.5 litre, port – and direct-injected V-6 engine, increased the compression ratio from 10.5:1 to 13.0:1, and made it run on the Atkinson combustion cycle – engine's running the Atkinson cycle, the intake valves stay open longer to reduce energy losses and convert combustion to engine power more efficiently. For extra eco love, Lexus is going after an Ultra Low Emissions Vehicle II classification for their GS. The new engine teams up with an electric motor and generator, which sends power to the 450h's rear wheels through a continuously variable transmission.
The new GS450h features an upgraded power control unit that limits the voltage sent to the drive motor when the driver selects Eco mode. When one of the two Sport modes are engaged, the power control unit gives it an extra boost. Drivers have the options: Eco, EV, Sport S, and Sport S+ modes. Lexus have reduced the electric motor's friction, and the generator was made more effective by expanding the regenerative-braking operating system. This hybrid version of the standard 3.5L V6 offers up an extra 32 horses at 338 hp, combined with the 52 hp provided from the electric motor. For a larger car and such a high hp output, 34 mpg is a great return.
Hybrids are obviously the way motor manufactures are going for the moment, but how long will it be before we see fully electric F1 races? How long before we plug in to the national grid to fill up instead of pumping petrol or diesel?