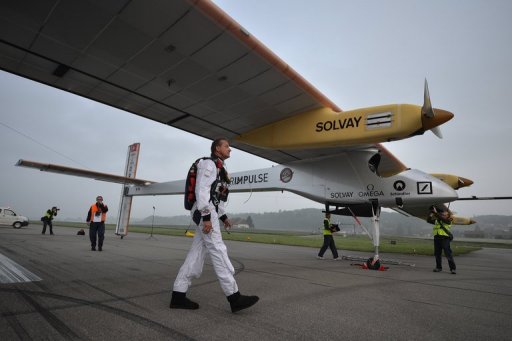 Could airlines soon be using solar-powered airplanes in lieu of gasoline guzzling ones? It sure seems so!
While things are still on the experimental level, a solar-power single-seater airplane took off for Rabat, Morocco after departing from Payerne, Switzerland on Thursday. The project, which began in 2003, has been estimated to cost $100 million over a span of 10 years and was sponsored by  Deutsche Bank AG (DBK),Solvay SA (SOLB) of Belgium, Schindler Holding AG (SCHP) and Swatch Group's Omega brand.
The lightweight aircraft has 12,000 solar cells on the 64-meter wings (equivalent to that of an Airbus 340) and lithium batteries that power the four engines. The 2,500-kilometer (1,554-mile) journey, which is being led by pilot Andre Borschberg, is expected to end next week and the plane will be taking a pit stop on the way.
The prototype plane is expected to take its first stop in Madrid, Spain on Friday for at least three days. The second stretch of the journey will be piloted by Solar Impulse President Dr.Bertrand Piccard. In case of an unforeseen emergency, the airplane is equipped with a parachute. Both pilots will be facing many challenges during their journey to Rabat. Borschberg will have to fly over the Pyrenees mountains between France and Spain, while Piccard will have to pass the windy Straits of Gibraltar between Europe and Africa.
The flight was delayed two hours during take off due to fog on the runway, showing that the aircraft is susceptible to bad weather. Borschberg, who is responsible for the first half the of the journey, reveals that the aircraft cannot fly into clouds. Upon arrival, the team has been invited by King Mohammed VI to showcase their use of solar technology as Morocco is slated to construct a solar energy plant at Ouarzazate.
This isn't the first time a solar plane has been in air: In 2010, an aircraft was flown by Borschberg for 26 hours non-stop with 12,000 solar cells attached so that the aircraft could soak sunlight and keep the aircraft airborne during the night.
This journey is the final practice before an attempt with an around-the-world journey scheduled for 2014 with an improved aircraft.
So will we be seeing solar planes taking over our airports in the next few years? Most likely not. Borschberg told CNN last fall that while solar planes have travelled successfully "it will take more time for new technologies to allow passengers to fly without [creating] any pollution."
In 2009, Dr.Piccard told USA Today that his goal is
"to construct an airplane that can stay aloft for as long as five days at a time and fly around the world with just four intermediate stops, powered solely by the energy absorbed from the rays of the sun. To be commercially viable, the solar airplane must be the size of an Airbus with the weight of an automobile while consuming the energy required to power a scooter or light a Christmas tree."
But with the precedented success of Borschberg and Piccard, there's no doubt that our distant future holds solar planes as a viable means of travel.