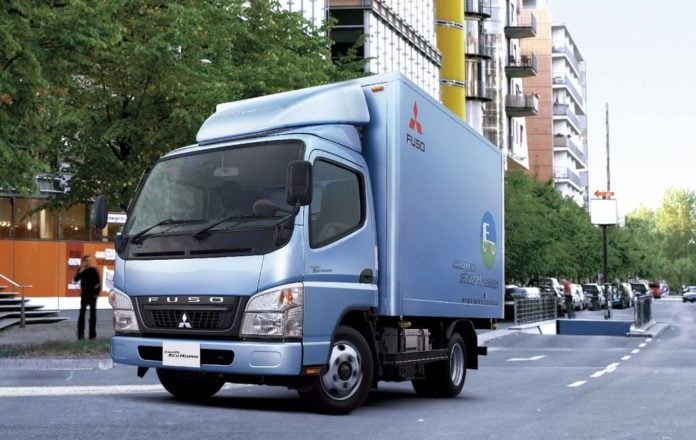 Daimler ventured into the commercial hybrid vehicle market in 2006 with a hybrid version of the Mitsubishi Fuso. This hybrid delivery truck has sold in excess of 1,200 units over the past six years to customers from Ireland to Australia. The design team at Mitsubishi Fuso Truck and Bus Corporation reached global consumers by expanding beyond the original right-hand drive setup. Daimler has announced that this first-generation hybrid has spawned the Fuso Canter Eco Hybrid Truck. Industrial customers in Japan can expect the Fuso Canter Eco Hybrid Truck this month with a European release by autumn.
Mitsubishi Fuso went back to the drawing board when considering a second generation of hybrid trucks. The 3.0-liter diesel engine used in the Fuso Canter Hybrid is much lighter and more efficient than the comparable engine used in the 2006 model. The Fuso Canter Hybrid features a 40kW electric motor that runs off a lithium-ion battery pack while traveling at low speeds. Daimler's BlueTec emissions control system combines an advanced particulate filter and selective catalytic reduction to significantly reduce greenhouse gas emissions. The DUONIC manual transmission used in the Fuso Canter Hybrid provides responsive gear shifts that contribute to a smoother ride.
The Fuso Canter Eco Hybrid Truck improves significantly on the previous Fuso hybrid in terms of fuel economy and emissions. Daimler touts an estimated fuel economy of 30 miles per gallon as the best for vehicles in excess of 4,000 pounds. This estimate would mean a 25% improvement in fuel economy compared to the standard Mitsubishi Fuso.
The Fuso Canter Hybrid Eco Truck achieves tailpipe emissions reductions of 30% compared to the 2015 Fuel Efficiency Standard created by the Japanese government. Daimler's fuel economy and emissions achievements are particularly important in European markets with strict emissions goals.
Daimler moves closer to sustainability goals established in 2007 as part of the Shaping Future Transportation initiative. This plan involved significant reductions in carbon emissions and resources used to produce all brands in the Daimler family. The Shaping Future Transportation initiative thus encompasses major names like Mercedes-Benz and Maybach.
Executives at Mitsubishi Fuso developed a similar plan called the Fuso 2015 Strategy to contribute to Daimler's global goals. The Fuso 2015 Strategy calls for a 7.5% reduction in carbon emissions by 2015. This emissions reduction not only focuses on more efficient vehicles but eco-friendly manufacturing and dealership practices.
The commercial transportation market has been often ignored as consumers and reporters are more concerned with passenger vehicles. Daimler recognizes the significant share of fuel consumption and emissions created by manufacturers as well as delivery services.
A typical supply chain includes marine vessels, airplanes and trucks that gobble up significant amounts of fossil fuels. The Fuso Canter Eco Hybrid Truck offers a middle ground for businesses that need to improve their environmental portfolios but are concerned about upfront costs for alt-fuel vehicles. Consumers and businesses should realize that hybrid trucks like the Fuso Canter Hybrid are great for the short term but delay a necessary evolution toward greener energy.