Today many people are interested in having a car that is 'green' and therefore better for the environment as well as their pockets. As the cost of petrol is rising it makes sense that people are looking to switch to cars which don't run on petrol.
With this in mind we have come up with a list of the top 5 green cars which are comfortable and good value for money as well as being fuel efficient. Unlike many 'green car' lists we've not only taken fuel efficiency into account – comfort and value for money are also strongly considered:
1. Toyota Prius C
In the top spot is the Toyota Prius C. This is a great choice for anyone who needs to seat up to five people in comfort and style. The Prius manages to get an impressive 53 miles per gallon when it is driven on the motorway and around 28 miles per gallon when it is driven in the city. It has plenty of space inside and is an inexpensive purchase for anyone who is interested in getting more miles to the gallon while still driving in comfort.
2. Nissan Leaf
This is a totally electric car that has many features such as cruise control, keyless entry, folding rear seats, air conditioning and six airbags. As it is an electric car rather than a hybrid it will need to be charged, so do this overnight for cheaper travelling. The Nissan Leaf can travel for approximately 108 miles on one charge which makes it very efficient.
3. Chevrolet Malibu Eco
This is a car that uses eAssist which combines an ordinary petrol engine with a lithium-ion battery to give it the power that it needs when necessary. It can achieve around 30 miles per gallon when on the motorway and thanks to stop start technology it can make fuel go even further, which is essential when you are looking for an eco friendly car. The car will seat five people and newer models will have even greater fuel efficiency, bringing its total MPG to around 38. If you like that extra burst of acceleration then this could be the green car for you.
4. Mitsubishi i
The Mitsubishi i is a hybrid car that has seen a lot of interest from buyers in the USA where it also has a tax incentive for anyone who chooses to buy one. Its price starts at $29,195 but with the tax credit this price is reduced to $21,625. Hybrids are a good choice for anyone who wants to be able to make the most from an electric engine while still having the power of a petrol engine. In terms of fuel efficiency this vehicle can average 62 miles per gallon. Its interior is comfortable and spacious and it can seat four people with plenty of room.
5. Hyundai Elantra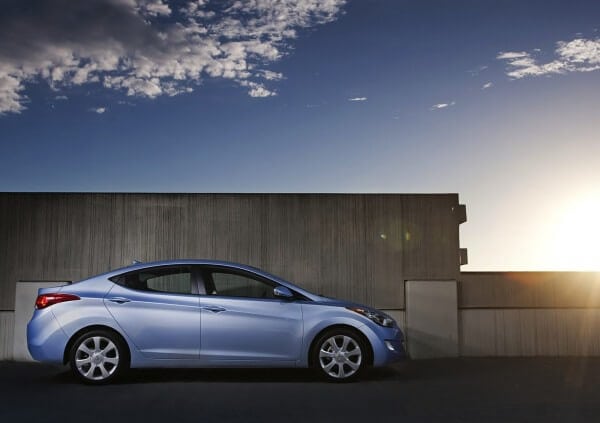 Completing our top 5 list is the Hyundai Elantra. This is a car that might act like a hybrid, but it isn't. It has a 4 cylinder engine that gets around 40 miles per gallon when driven on the motorway, which is a figure that is not to be sniffed at. The Elantra has a pleasant interior and it can seat four people with ease. The price of this car is also very low – at around $15,500 – which means that it is a good choice for anyone who wants a car that is affordable and fuel efficient to help them to save more money when travelling.