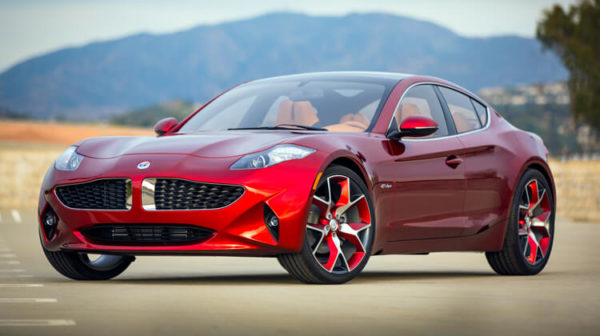 Nicknamed Project Nina, Fisker's new sedan was announced the night before the 2012 New York International Auto Show opened. Leaked prototype drawings had audiences piqued and ready for the big unveil. What we saw was a smaller luxury sedan (sporting a mustache) with the features to fit the modern-day family.
Designed as a plug-in hybrid, the Atlantic comes fitted with an EVer powertrain. Standing for "Electric Vehicle with extended range," the Atlantic pairs an electric system with a four-cylinder gas engine. While the gas component works solely as a generator used to charge the battery, it does provide protection for families worried about running out of charge on the go.
Fisker compares the size of the Atlantic to the Audi 5, with spider-like structure which supports a glass roof and reinforces the frame. This adds headroom and legroom for rear passengers, and creates a durability which – they say – impresses during crash test performance. Looking more like a coupe than a sedan while delivering the passenger, trunk room and comfort of a typical family car, the Atlantic may be the car that catapults Fisker from a luxury niche line to a mainstream auto-maker.
Unfortunately, we won't know that until we see the price. As of now, Fisker is saying the car will cost roughly half of that of the larger Karma, which retails at $102,000. The sleek style, comparable performance and novelty of the Atlantic would be a bargain at $51,000. Throw in the additional benefits from gas savings, and any tax breaks which may relate to the car's purchase, and the Atlantic may have a very bright future ahead of it.
More than the price is a mystery at this point, however, and once Fisker releases more info on battery range and charge time, we'll know how big of a competitor in the luxury market the company will really turn out to be. The Fisker Atlantic is a stunningly beautiful example of sustainability on the go. If the price point is right on their launch date, it's very possible that people will be lining up to put down a deposit.
Launch date, sale price and exact specifications will have to wait until a later date, but Fisker was elated to finally reveal the results of Project Nina. Released last year at the 2011 Frankfurt Auto Show, the Fisker Surf focused on a larger auto that merged sports appeal with family handling. More of a luxury sport wagon in design than the Atlantic's coupe curb appeal, the electric powertrain kept pace with competitors, giving hope for an outstanding performance by the Fisker Atlantic.
All photos via Fisker Automotive