The New York Auto Show rolled out this week, leaving in its wake a large list of alternative fuel and electrically-enhanced autos that were bigger and badder than the subcompacts of the past. Although eco-autos didn't receive the same fanfare as last year – the 2011 World Car of the Year being the all-electric Nissan Leaf – we did see trends in the top green cars moving in a more practical direction particularly for luxury markets and drivers in the U.S.
2012 Green Car of the Year
Mercedes Benz 250 CDI BlueEFFICIENCY
Mercedes raised eyebrows with their announcement to introduce their first S-class with a four-cylinder engine, but taking care to revamp performance paid off with the diesel-burning BlueEFFICIENCY. Offering up 201hp and 369lbs of torque, this large, luxury vehicle gets from 0 to 60 mph in a swift 8.2 seconds. Top speeds reach nearly 150 mph, and fuel efficiency numbers impress at an estimated 41 mpg.
Unfortunately, there are two downsides to this. First, Mercedes Benz won the Green Car of the Year in 2007 with their Mercedes-Benz E 320 BlueTEC … then failed to do much with it. Also, it won't be for sale in the United States, although the engine will be used in the upcoming US 2012 release of the GLK SUV.
Photo: 2012 Greater New York Automobile Dealers Association
Green Car of the Year – Runners Up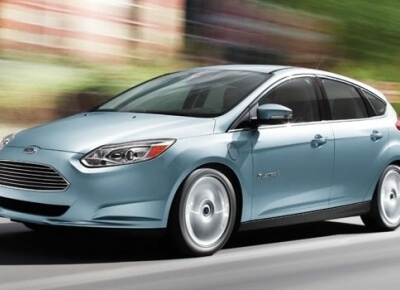 Ford Focus EV
The all-electric version of Ford's popular passenger car tops out at 110 mpge city/ 99 mpge highway with a top speed of 89 mph and the ability to travel 79 – 100 miles per charge. Currently on sale in 19 cities across the US, and starting out at just $39,200, the Focus EV has an excellent chance of picking up steam on the consumer market.
Photo: 2012 Greater New York Automobile Dealers Association
Peugeot 3008 Hybrid4
Touted as revolutionary and wild, this first ever diesel-electric hybrid has already gone on sale in UK. Unfortunately, again, Peugeot isn't going on sale on US soil. It's a shame because the simplistic design the company's developed will allow for relatively inexpensive conversion of all their traditional lines into hybrids.
Photo: Peugot
Coolest Car of the Year Award
Electric Delorean? Why, Thank You.
Running on – no kidding – Flux Power batteries, Delorean enthusiast, Stephen Wynne, is revamping roughly 200 models to run entirely on electric power. The models should be released within the next two years … to a tune of $95,000.
Photo: Delorean
Honorable Mentions
Kermit was wrong. It is definitely easy being green when small steps are taken. Instead of driving a monster SUV, for instance, that gets 4 mpg, check out one of the hybrid options offered up by GMC or Chevrolet. Truck owners have hybrid options, too, as seen with the Chevrolet Silverado and GMC Sierra H. A slew of hybrid passenger cars was also there, reminding us of options at every spending level – from the new subcompact Prius c to Kia's Optima Hybrid and Fisker's recently unveiled Atlantic.
The best green autos of the 2012 New York Auto Show brought something new to the table for the industry as a whole. They brought faith in the development of new technologies, access to larger cars with higher fuel efficiency numbers, and more options that real users want. Companies need to follow that lead by providing bigger, better cars at prices affordable enough to taking the extra hit worth the investment.