Car enthusiasts love owning and finding sports cars. Sports cars are generally vehicles that are known for their great performance specs and stylish designs. However, if you trade in your used cars and have the money (at present they are very expensive) you can buy a sports car that can be environmentally friendly alongside other impressive features. There are now a number of green sports cars that are either electric, hybrid or simply get great gas mileage. Here are some of the top green sports cars:
1. Tesla Roadster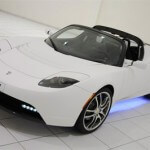 The Tesla Roadster is a stunningly impressive vehicle. With 302 horsepower, the Roadster can accelerate from 0 to 60 mph in only 3.7 seconds, and it is known for extremely precise and responsive handling as well. Such specs are not uncommon among high class sports cars, but the Tesla Roadster is 100 percent electric. One charge for the Tesla Roadster can last 245 miles, and the electric nature of the vehicle means there are no exhaust emissions released. In addition, the Roadster can be plugged into nearly any outlet, meaning charging is always easy and convenient.
2. Velozzi
The Velozzi has the ability to reach a top speed of about 200 mph. In addition, the car can accelerate from 0 to 60 mph in under three seconds. The Velozzi also has over 800 horsepower, making it a tremendous supercar. Such a vehicle does not come cheap, of course, but individuals who do buy it are able to enjoy its hybrid benefits. Very few sports cars are hybrid vehicles, but the Velozzi is a car that combines power with excellent hybrid fuel efficiency.
3. Mercedes-Benz SLS AMG E Cell
The Mercedes-Benz SLS features 525 horsepower and an electric motor. In addition, the E cell car can reach a top speed of around 155 mph. The vehicle can travel about 90 miles on a full charge, and charging the battery takes a little over an hour. The Mercedes-Benz SLS AMG E Cell weighs a whopping 4,400 pounds, but that does not stop it from being able to accelerate from 0 to 60 mph in about four seconds flat.
Green cars are revolutionizing the auto market, and some manufacturers are striving to produce vehicles that can even run off of hydrogen and solar power as opposed to simple electricity. It is difficult to tell how popular green sports vehicles can become, but as technology advances, green sports cars will likely become cheaper and easier to obtain. Buying green sports cars allows auto enthusiasts to enjoy powerful vehicles while preserving valuable fossil fuels and reducing carbon dioxide emissions.