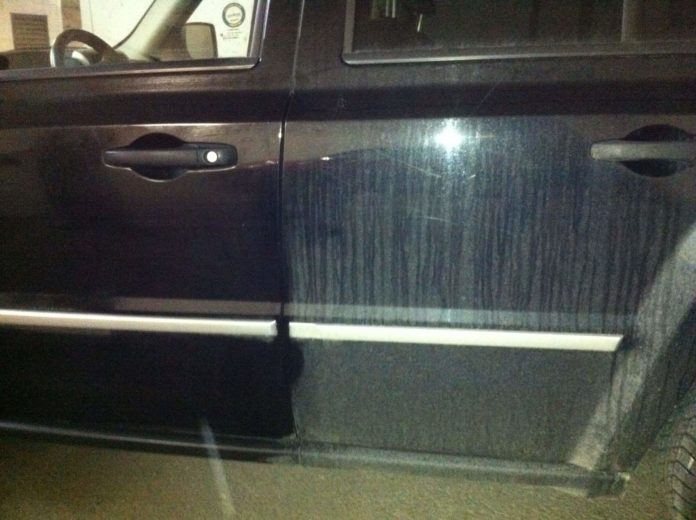 As the weather turns to more spring-like conditions every day (especially in Toronto), you'll undoubtedly begin to see your neighbours out in their driveways washing their cars. But what they probably don't realize is that washing your car that way is terrible for the environment.
For starters, a garden hose pours out about 10 gallons of water per minute. Even if you reserve the amount of water you spray and stop the flow when you aren't using it, there will still be water going to waste.
Secondly, most car wash soaps contain chemicals. After you rinse the suds off your vehicle, the chemicals will run off your driveway and either end up in the soil or in the sewer. And while automatic car washes were built to reuse water and reduce the amount of soap runoff, they only dampen the effects of car washing rather than eliminating them altogether.
So what's the alternative? Waterless car washing.
It may sound crazy, but by simply spraying a few squirts of an eco-friendly and biodegradable cleaning solvent on the outside of your dirty car, waiting a few minutes, and wiping it off, your car will look like you just drove out of an automatic wash, except no water or harsh chemicals will have been used. If you're thinking that the process sounds as if it would just rub the dirt into your car and scratch your paint, you'd be surprised to find out it doesn't. Check out the gallery below to see the process in action:
Notice the lack of water on the ground, and lack of scratches on the car?
Eccosave's mobile waterless car wash
How I came to learn about waterless car washing was through Eccosave, a local Toronto business whose owner, Simon Smith, was nice enough to give me the demo shown in the gallery above. Eccosave doesn't just provide the car washing services, though – they provide mobile waterless car washing services, meaning they come to you – whether your car is parked at home, your office, or even on the street. Since it requires no water, and leaves no mess, Eccosave can wash a vehicle almost anywhere.
Their services aren't limited to exteriors, either. Eccosave, using waterless car wash products produced by Freedom, provides full interior car washing services, including steam cleaning and the eco-friendly version of applying Armor-All on your dashboard and console areas. Eccosave also retails the products they use in their waterless car wash, for drivers who want to do it themselves.
If you're a driver living in the Toronto area, be sure to give Eccosave a call. Their prices are very reasonable (between $20 and $25 for an exterior) and they're a truly green business promoting eco-friendly habits for all vehicle owners.
Check them out at Eccosave.com or on Facebook at facebook.com/eccosave