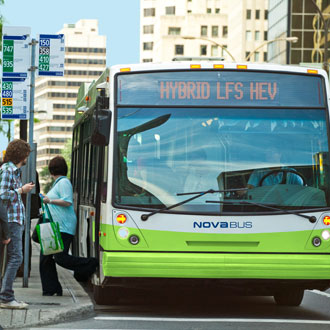 A group of public transit operators in the Province of Quebec has signed off on the purchase of 475 hybrid buses from Nova Bus. This purchase involves delivery of the LFS HEV bus by the Volvo subsidiary to the nine members of the ATUQ starting next year. Volvo has spent considerable resources developing effective hybrid technology for public transit operators throughout the world. Cities throughout Quebec offer opportunities to test out the LFS HEV in challenging urban environments and weather conditions. Vehicles like the LFS HEV not only help transit operators reduce their fuel costs but encourage operators around the world to consider hybrid buses already tested on the road.
The LFS HEV is the latest hybrid bus developed by Nova Bus and Volvo. This vehicle combines a Cummins ISB engine capable of producing 208 kW with an electric drive system by Allison. A cluster of high-capacity batteries are located on the top of the vehicle with a combined weight of 900 pounds. Nova Bus claims that the LFS HEV reduces fuel consumption and carbon emissions by 30% compared to diesel buses. These savings are achieved by using all-electric power during acceleration at low speeds and a mixture of engine and motor power below highway speeds. Volvo and Nova Bus have developed a hybrid drive system that works well within the constraints of public transportation.
The Association du transport urbain du Quebec (ATUQ) is a major force in Canadian public transit. This group represents transit operators in the nine largest cities in the province including Quebec City, Montreal, Sherbrooke and Saguenay. ATUQ provides just over 90% of all public transportation in the province, which could be a major market for Volvo buses. Participating agencies offered 543 million rides to Quebec residents in 2011, representing a major environmental impact that could be offset by hybrids.
Volvo has already delivered 1,600 hybrid buses to operators throughout the world prior to the ATUQ purchase. The ATUQ included a provision for an additional 1,200 buses in the near future depending on performance of the initial 475 units. This order represents the single largest hybrid purchase for Volvo to the present. Nova Bus currently offers a handful of hybrid options beyond the LFS HEV that could attract interest with successful demonstrations in Quebec. The LFS Smart Bus combines a lightweight frame and the energy-efficient Nova eCooling system to reduce fuel consumption by 18%. The bus manufacturer also offers hybrid drive capabilities in the LFS Arctic model, which is designed to handle high-volume transit routes.
Volvo is certainly not pinning its hopes solely to Quebec as shown by recent hybrid purchases in Luxembourg and Australia. The automaker delivered its first Volvo 7700 hybrid bus to Sales-Lentz in Luxembourg in November 2012 with an additional five units slated for delivery this summer. The Public Transport Authority of Western Australia received a B5R hybrid bus from Volvo last month. A progression of successful deliveries combined with integration into transit systems shows that hybrid technology is ready to be mobilized worldwide.