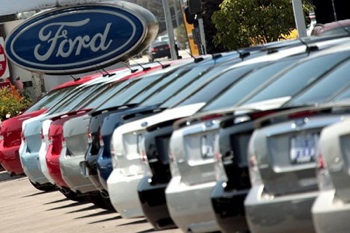 Ford has grown from an also-ran in the plug-in vehicle market to an industry leader thanks to a commitment to long-term research and development. The automaker produces the Focus Electric sedan as well as the C-Max Energi Plug-in for dealerships throughout the United States. Ford is now preparing dealerships from coast to coast for plug-in sales and service in anticipation of higher sales volumes. The automaker announced this week that 900 dealerships will be trained and certified for EV service by the end of spring. This expansion would equal about a third of Ford dealerships in the United States, a major improvement over the 200 certified dealerships operating last November.
A concern for Ford is accommodating consumers interested in plug-in vehicles. Prospective buyers not only want accurate information about vehicles but service departments that can handle problems experienced by any Ford vehicle. The automaker's plug-in vehicle sales were modest this past month with 81 Focus Electrics and 338 units of the C-MAX Energi delivered to customers. Ford has sold 693 Focus Electrics since premiering the vehicle in January 2012. The C-MAX Energi premiered last October but has sold 2,712 units as of January 31st, 2013. Ford has risen from a 3% market share for plug-in vehicles in April 2012 to a 16% share in December 2012.
Dealerships interested in participating in EV certification must complete several steps to meet Ford's standards. Each dealer must house two charging stations onsite to accommodate customers including at least one station each in the showroom and service area. This requirement allows loyal customers to recharge their batteries while receiving routine service and repairs. Participating dealers will also maintain at least one Focus Electric and one C-MAX Energi Plug-in no matter their inventories. These models are intended for test drives and public demonstrations during seasonal events.
Ford is also concerned with the qualifications of sales and service staff to handle plug-in technology. A certified dealer employs a staff where 80% of sales people and mechanics have passed examinations testing familiarity with Ford's plug-in vehicles. Dealerships hoping to sell EVs in the future will create digital displays and educational resources that simplify the purchasing process for the average consumer. A final step for aspiring Ford dealerships is participation in the Go Green Dealer program. This initiative requires an assessment of a dealership to find potential energy savings and recycling opportunities that lower environmental impact.
Car dealerships often receive little attention in discussions of broadening green vehicle adoption in the United States. These points of purchase are critical for Ford and competing automakers hoping to increase sales in this niche market. An auto dealer familiar with the latest advances in plug-in technology can be invaluable to convincing a customer to buy a fuel-efficient vehicle. A service staff that can diagnose problems quickly, offer solutions and handle repairs of all types reassures vehicle owners that their investments in plug-ins are sound. Ford has already developed EV technology that can work in the real world. The automaker is now focused on making plug-in models more accessible to the general public through their dealerships.