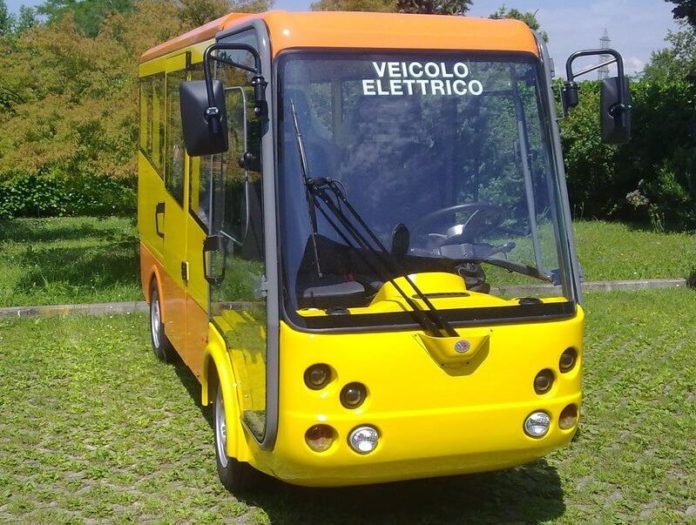 The Department for Transport (DfT) in the United Kingdom recently approved public use for an all-electric version of the Golia truck. This approval classified the Golia e-Bus as an N1 vehicle, which indicates a light truck allowed to carry passengers and cargo. Milan-based Esagna Energia has worked with ePowerTrucks in England to complete the conversion ahead of commercial sales this year. The Golia e-Bus could become ubiquitous in the United Kingdom thanks to easy maintenance, sufficient speed and ample passenger space. A lingering issue for the Golia e-Bus is a price tag exceeding $55,000 that could turn off potential buyers.
ePowerTrucks inserted an electric drive system that did not sacrifice the vehicle's payload or passenger seating. The Golia e-Bus has three rows of seating as well as a rear cargo compartment capable of holding 440 pounds. An important difference in the e-Bus from the standard model is a two-speed manual transmission. This transmission allows the vehicle to traverse steep hills by applying more power to the motor. ePowerTrucks installed a regenerative braking system that recuperates kinetic energy from the brakes to recharge the battery. Collecting brake energy is particularly helpful in the Golia e-Bus considering frequent stops and starts during daily routes.
Commercial customers concerned about charge times are reassured by the vehicle's quick-swap battery system. A customer can recharge the battery pack fully in about eight hours but need not wait that long to hit the road. ePowerTrucks incorporated a quick-swap system where the depleted battery can be replaced by a fully charged battery for the next route. The swapping process only requires a single person with basic tools, thus alleviating concerns about ongoing maintenance. ePowerTrucks and Golia limited the vehicle's top speed to 30 miles per hour to extend range for all-day use. The e-Bus is able to travel about 50 miles between pit stops, a sufficient range for the vehicle's target customers.
The Golia e-Bus is referred to as a transfer vehicle and can act as a shuttle, cargo carrier or passenger vehicle. Golia and ePowerTrucks are marketing the vehicle toward commercial customers operating on sizable properties difficult to cover by foot. The e-Bus will be directed toward tourist destinations and airport authorities trying to move travelers with greater efficiency. Universities around the world could adopt the Golia e-Bus for student tours, nighttime transportation and sporting events. A variation on the e-Bus might be sold to military outfits in search of easy travel across bases.
ePowerTrucks already possesses substantial experience in selling EV conversions of utility vehicles. The firm based in Oldham, England has supplied all-electric vehicles to clients like Nestle, Motorola and Microsoft. Vehicle manufacturers including Club Car, Alke and Mia have teamed with ePowerTrucks to develop electric vehicles. The quality of the Golia e-Bus does not seem in doubt but price remains a major factor for prospective customers. Universities, government agencies and businesses face tight economic times into the future, making a $55,000 transfer vehicle an extravagance. The Golia e-Bus will remain a novelty used by a select few until the sticker price can be reduced through subsidies as well as production efficiencies.