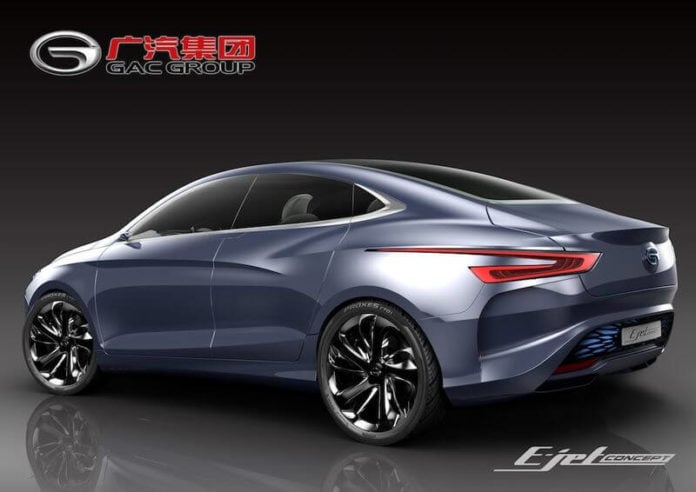 The 2013 North American International Auto Show (NAIAS) in Detroit is among the leading venues for automakers to highlight their latest technologies. Guangzhou Automobile Co. is using the event to continue an ambitious growth plan in the Chinese market. This automaker has already launched three low-speed electric vehicles and a fleet of low-speed electric buses in China. Guangzhou is building on these successes by presenting a trio of green vehicles including a production version of the Trumpchi Hybrid sedan. Representatives from Guangzhou expect production volumes of two million vehicles this year thanks to boosted motorcycle and hybrid sales.
The Trumpchi Hybrid integrates the standard model's familiar frame with a modestly efficient drive system. This sedan features a 1.8-liter gas engine, a 25 kW motor on the rear axle and a 15 kW Integrated Starter/Generator. Guangzhou notes that the vehicle's all-wheel drive can shift from two wheels to four wheels automatically based on driving conditions. The hybrid drive achieves all of the benefits of comparable models including engine start/stop, regenerative braking and limited all-electric drive. The Trumpchi Hybrid achieves average fuel economy of 35.6 miles per gallon, a 20% improvement over the traditional version.
Guangzhou worked with AC Propulsion to create an all-electric version of the Trumpchi GS5 SUV for the 2013 NAIAS. This mid-sized SUV is powered by a 35 kWh lithium-ion battery placed low in the vehicle for improved weight distribution. The GS5 SUV prototype can be recharged fully in about two hours using an 18 kW onboard charger that can be used to redirect power to home grids. Drivers could reach 60 miles per hour from a full stop in about 8.5 seconds, providing enough power for urban and highway driving. The battery-electric GS5 SUV is not slated for production as yet but looks like a vehicle that could easily hit the market in the near future.
A glimpse into the future of Guangzhou was provided by the Compact E-JET. This prototype is a range-extended EV featuring a 95 kW electric motor, 1.0-liter engine and a 13 kWh lithium-ion battery. The Compact E-JET has a maximum speed of 99 MPH and reaches 31 MPH from a dead stop in about 4.5 seconds. Guangzhou notes that the prototype can travel up to 62 miles per charge using all-electric power with a combined driving range of 373 miles. An estimated fuel economy of 118 MPG would make the Compact E-JET competitive immediately with the top hybrids and EVs on the market.
The Chinese market is increasingly competitive thanks to eased economic restrictions as well as international investments. Guangzhou might have been the only Chinese automaker at the 2013 NAIAS but is currently sixth in sales among Chinese consumers. Joint ventures with major players like Toyota, Hino and Fiat-Chrysler should boost the company's profile in the near future. The company will need to significantly increase production for passenger vehicles while maintaining demand for motorcycles in order to reach two million vehicles sold in 2013. To achieve this goal, Guangzhou must continue to diversify its vehicle fleet with fuel-efficient models aimed squarely at a growing middle class.