Have you ever wondered what to do with your old cell phone? Many people just toss them in the trash, but there are a lot more things to do with a retired phone than throwing it away. Here are just a few ideas.
Turn Your Phone into a Robot
For those who are into robotics, one fun way to use your phone in a new way is by turning it into a robot. If you need inspiration, you can find examples online, such as the Truckbot or TeMo, which use the brains of the cell phone to operate them. This is a fun project for hobbyists or for teens interested in going into the field of robotics.
Create Beautiful Art
Image via Wired.com
A fun project is to take your old phones, or other electronics such as music players and computer parts, and create something beautiful. If you need inspiration, there are many examples online of art created from obsolete electronics. All you need is your imagination to take what is there and see what it could be. If you're really ambitious, consider trying to follow these instructions for building your own Decepticon, inspired by the movie Transformers.
Turn Your Phone into a Craft Project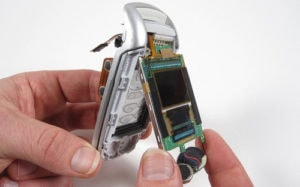 Image via IFixIt.com
There are a lot of ways to take used electronics and phones and turn them into something new. You could take the phone apart and create a collage with the many parts. If you have access to multiple cell phones, you could take the screens and, with a little drill, add holes in the corners and create a wind chime out of them. If you want it to be more colorful, take the time to paint designs onto the screens before putting the chimes together.
Turn Your Phone into a Gaming System
Image via Mediaite.com
If you plan to shop for Windows phones or other smartphones to replace your current smartphone, consider handing your phone off to your child to use as a portable gaming system. Even though the phone might not have cell service, it can still connect to Wi-Fi and play games on the phone. Before switching over, take off games/apps that you wouldn't want for your kids and add on educational and fun kids' games and apps.
Recycle Your Phone
mage via Flickr by Phil Greaney
If you don't find a use for your phone within your own home and community, one great option is to recycle your phone. For every 1 million phones recycled, over 35,000 lbs of copper, 700 lbs of silver, and 75 lbs of gold can be recovered from these devices. All you have to do is find a local retail cell phone store that collects used cell phones and drop it off. You can also contact your cell phone provider and see if they accept them to be mailed in if you don't have a retail store nearby.
Whatever you do, don't throw your phone away. If the above projects sound too ambitious, consider donating or recycling any phones you haven't used in more than 6 months.