Being green is still a relatively new philosophy; so much so, that there is still ample opportunity to both create new and improve upon existing home, lifestyle, style and technology products that focus on environmentally-smart form and function.
Throughout 2011 we saw industry and innovation that turned up the aesthetic and performance notches on basic eco concepts, making a greener lifestyle more accessible to more people, more easily.
Here are five of the most exciting eco innovations of 2011:
1. Space-Saver Homes
The concept of "domestic transformer" apartments have not been lost on both the eco and the urban communities, who face issues of space, cost and smart planning to satisfy life needs. One man and architect in Hong Kong's tightly packed city center has designed an amazing modern and functional 330 sq.ft apartment with sliding walls that transform the space into 24 different room combinations.
2. Biome Terrarium
Bridging the gap between technology and nature, a London-based designer created the Biome Terrarium:
a living, breathing "Tamagotchi" of the new millennium.  Controlled by your iPad or smartphone, this innovative  product allowing you to adjust lighting levels, climate conditions and water from your device to help nurture the plants inside.
3. Vertical Forest
Milan is currently under construction—and about to become host to the world's first vertical forest.
The city is currently erecting a 27-story structure whose immense integrated structuring of forest and plant life will produce humidity and oxygen, absorb CO2 and dust particles and protect the building from radiation and acoustic pollution, not only improving the quality of the living spaces, but allowing for dramatic energy savings.
4. Indoor Composting
Another great innovation in home design is this Parasite Farm –a product with a gross name but a cool function, allowing for even the smallest of kitchens to incorporate smart composing into its waste system.  The Farm includes several planter beds with grow lights, and a compost bin with a chopping board lid that can be mounted on any kitchen table.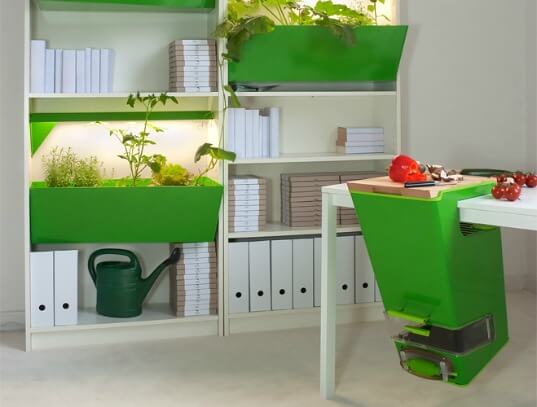 5. Fuel Cells
Finally, some rest for that laptop charger pack! Apple recently put a patent on fuel cell technology, in an attempt to curb the world's reliance on fossil fuels. Hydrogen fuel cells not only boast longer life than batteries, but are also capable of running on one charge for weeks without requiring a re-up. The company is putting big bucks into the research of this relatively new concept under guidance of their Electronic Product Environmental Assessment Tool.
Resources:
www.treehugger.com
www.planetgreen.com
www.inhabitat.com