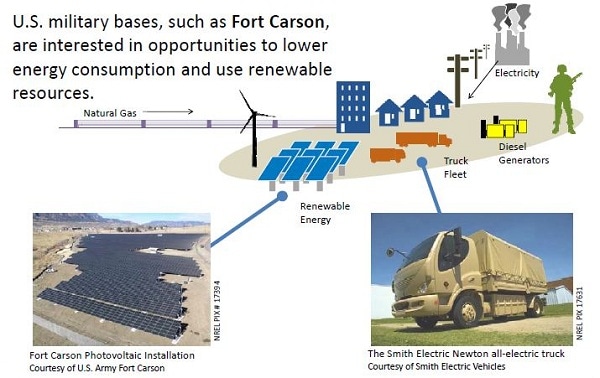 The Army Corps of Engineers, which has been awarded a $7 milllion contract, will be testing if electric vehicles help protect a military base from power disruptions at Fort Carson, Colorado.
"The goal for the SwRI portion of this 18-month effort is to demonstrate the ability of electric vehicles to serve as energy storage devices in support of a microgrid and provide grid ancillary services, such as peak shaving and demand response, during non-microgrid operation," Sean Mitchem, an SwRI project manager and a principal analyst in SwRI's automation and data systems division,said in a statement.
According to TG Daily:
Microgrids are just what they sound like: smaller grids, able to operate apart from the larger grid. It's not hard to see the value of microgrids for use in remote areas, where when powered by solar or wind or other renewable sources they can allow troops to function without relying on constant and risky refueling.

But certainly after Sandy it's pretty clear that even here on the homeland the ability to remain powered up when the larger grid is down could be incredibly valuable. (Even before Sandy, some vital institutions around the country recognized the possible threat of power loss; check out the microgird at the Santa Rita Jail in the Bay Area, which can operated independent of the grid using solar photovoltaic panels, a 1 megawatt fuel cell cogeneration plant and wind turbines).
"Unique challenges of this project include using electric vehicles to absorb excess generated power from the base's photovoltaic array and reduce the base's energy bill by integrating vehicle energy storage into the energy management strategy, all the while continuing to serve as an active part of the base vehicle fleet," SwRI co-researcher Joe Redfield said.
Should the project go well, Fort Carson could potentially become a net zero facility with electric vehicles making up all the military vehicles to "aid in regulation of variable renewable generation loads and help stabilize the grid/microgrid."