Designers and urban planners around the world are constantly looking for ways to connect citizens to the skyscrapers, restaurants and museums around them. Vast amounts of money are spent designing parks, boutique retail spaces and condominiums.
So how come our roads don't get that kind of attention?
That was the kind of question running through the head of a designer in the Netherlands. Daan Roosegaarde is the brains behind a smart road design that features glow-in-the-dark tarmacs and illuminated weather indicators. And his vision for the roads will be installed in the Netherlands from mid-2013.
"One day I was sitting in my car in the Netherlands, and I was amazed by these roads we spend millions on but no one seems to care what they look like and how they behave," Roosegaarde told Wired.co.uk. "I started imagining this Route 66 of the future where technology jumps out of the computer screen and becomes part of us."
The Smart Highway recently won Best Future Concept at the Dutch Design Awards. The concept was created by Studio Roosegaarde and infrastructure management group Heijmans. And what's amazing about this project is that it has already gone beyond pure concept…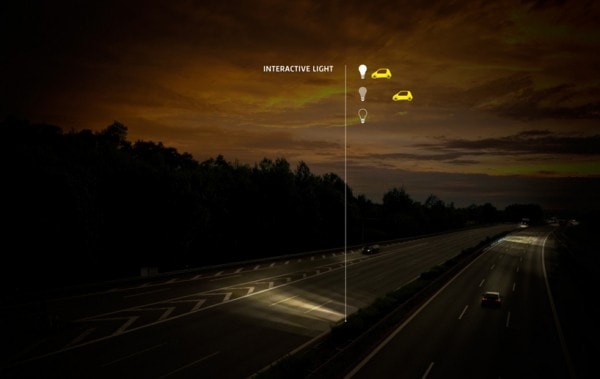 According to Wired.co.uk, the studio has developed a photo-luminising powder that will replace road markings. It actually charges up in sunlight, giving it up to ten hours of glow-in-the-dark time come nightfall.
"It's like the glow in the dark paint you and I had when we were children," designer Roosegaarde explained to the UK website, "but we teamed up with a paint manufacture and pushed the development. Now, it's almost radioactive".
Special paint will also be used to paint markers like snowflakes across the road's surface. Wired explains that when temperatures fall to a certain point, these images will become visible, indicating that the surface will likely be slippery. Roosegaarde says this technology has been around for years, on things like baby food. But now, the studio has just "upscaled" it.
The first few hundred metres of glow-in-the-dark, weather-indicating road will reportedly be installed in the province of Brabant in mid-2013. Wired reports that this will be followed by priority induction lanes for electric vehicles, interactive lights that switch on as cars pass, and wind-powered lights within the next five years.
Although a project like this may seem like a lesson in sustainability, Roosegaarde says he wants the Smart Highway to trigger a re-thinking of road design. Much the same way that automakers have re-thought car design.
Wired reports the studio has about 20 ideas that will eventually be rolled out in phases. The firm has also had inquiries from other interested countries. "India is really keen on it; they have a lot of blackouts there, it would be hallelujah to them", Roosegaarde says.