As the harsh reality of global warming continues to strike fear and suffering on a frighteningly consistent basis in the form of natural disasters, it's about time we acknowledge our role as the most intelligent species on the planet and play our part more seriously.
Fortunately, putting your environmentally conscious intentions and strategies in line with your actions is not as complex as counting the number of segments on caterpillar parts under a microscope in a biology lab. You'd be amazed to know how much power you can conserve by simply replacing your home or office's energy-guzzling appliances and gadgets with a few economic, environmentally-friendly products.
Here are a few amazing green appliances you can integrate into your daily lifestyle. These items will help you save money without polluting the atmosphere, and allow you to fulfill your responsibilities as a citizen of this wonderfully complex biosphere that shelters us.
Power Conscience Energy Usage Meter
This attractive and ergonomically designed power consumption meter can be easily wall-mounted in your workplace or home. The Power Conscience Energy Usage Meter gives you accurate data on the amount of energy you consume in real time via the changing the brightness levels of the light emitted. It gives you further incentive to save power by displaying the electricity bill you'd pay according to your power consumption levels, which will also help you manage your monthly expenses more effectively.
Cyclus

Cyclus is a one-of-a-kind green gadget. It's a mobile generator packed into a stylish bulb-shaped spring-driven device that can be carried by you everywhere. Cyclus is capable of generating up to 3 watts of power, which can power small devices like light bulbs and mobile phones in case of an emergency.
GreenBox
GreenBox is one of the most brilliantly executed and effective green gadgets for home use. It uses smart grid solutions that help you attain ultimate energy efficiency from your centralized home utility network system.
GreenBox operates by sucking up the heavier cold air near your floor and diverting it to the ceiling. This ensures that the warmer air stays near the center and bottom of the room, which makes the room temperature more comfortable during the winter.
Socket Pop
You'd be shocked to know the amount of power many of your home appliances drain, even when they're not being operated. Unplugging your electrical devices after use is perhaps the simplest way to dodge this problem; however, our busy and spontaneous lifestyle makes it hard to keep track of such things.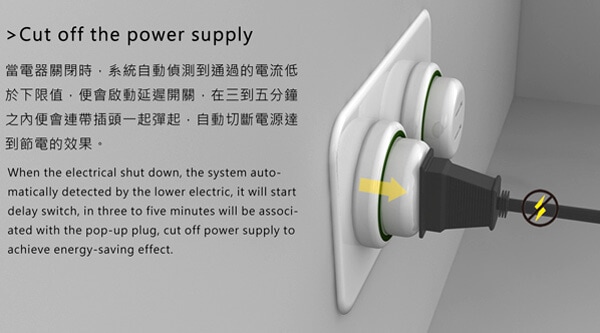 The Socket Pop aims to resolve this problem with simple finesse by automating this task. The device senses a dip in the electricity levels of a device you've finished using and subsequently pops it out of the plug to prevent any passive wastage of electricity.