The path to broader adoption of electric vehicles in the United States includes developing a national charging infrastructure. Nissan is not only competing in the auto industry with the all-electric LEAF but investing heavily in charging equipment. The Renault-Nissan Alliance has worked with businesses and governments around the world to reduce barriers to entry for plug-in vehicles. Nissan's latest effort is a partnership with NRG Energy and eVgo to triple quick-charging installations in the United States by 2015. This bold move might serve Nissan's interests in the short term but EVs currently collecting dust in the prototype phase won't see the light of day without an abundance of chargers.
NRG and subsidiary eVgo plan the installation of 40 Freedom Stations in Washington, D.C. Additional chargers will be placed in existing hubs like Houston, Los Angeles and San Francisco with at least 350 installed in the next 18 months. The Freedom Stations used in Washington, D.C. will be the first installed by NRG in the Northeast. Nissan and NRG estimate that these quick-charging units can recharge a LEAF battery to 80% capacity in about 30 minutes. Commuters in target markets currently use home charging to replenish their plug-in vehicles, which takes far longer than the Freedom Station. The emphasis on quick-charging stations certainly offsets concerns that chargers are too slow to accommodate the typical commuters. A plug-in vehicle owner could park by a station and replenish the battery while completing a few short errands.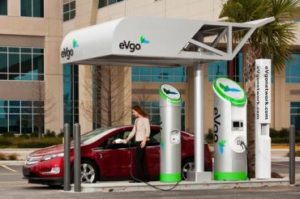 Nissan estimates that the United States currently hosts 150 quick chargers with none installed in Washington, D.C. The automaker will focus heavily on outfitting the nation's capital with quick chargers for local commuters. Representatives from Nissan used the recently concluded Washington Auto Show to emphasize the area's importance in the EV universe. A growing EV infrastructure near the nation's decision makers would highlight the need for infrastructure development throughout the country. Nissan, NRG and eVgo also hope that the proximity of Northeastern metro areas will mean interest by nearby mayors in quick-charging equipment.
The recent experiences of NRG and eVgo should be helpful in Nissan's quest to boost EV infrastructure. NRG has made a $150 million investment in producing 240-volt chargers and quick chargers to accommodate customers at different levels. The New Jersey-based energy company has invested in chargers at schools, hospitals and housing complexes from Southern California to Texas. eVgo currently offers unlimited charging for a monthly fee to residential and commercial clients in Los Angeles, San Diego, San Francisco, Houston and Dallas.
A major investment in quick-charging infrastructure requires some research and thoughtfulness by Nissan. The company will study best practices used by major corporations that already offer incentives for EV purchases and charging equipment. Nissan will work closely with 30 dealerships in target markets to determine how personnel can encourage charger use in their communities. Quick chargers will be spread to dealerships, business parks and neighborhoods to accommodate a broad range of potential users. The development of clever plug-in vehicles might attract attention during auto shows but Nissan's methodical approach is necessary to increase EV use. Commuters might be able to drive to and from work each day without charging but many won't touch plug-ins until public chargers are widely available.