On March 11 2011, Japan was hit by a devastating earthquake with a magnitude of 9.0 on the Richter scale. Following the earthquake, a violent tsunami struck the northeast coast of Japan, where Fukushima is located.  The natural disaster claimed 20,000 lives, as well as several meltdowns at the Fukushima Daiichi nuclear power plants, which lead to release of nuclear radiation.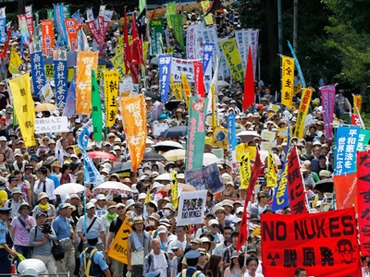 Prime minister Yoshihiko Noda has restarted the first nuclear reactor since the crisis last month in order to cover the electricity shortage the country was facing, which is why last Monday, over 100 000 people came together in central Tokyo and protested against the use of nuclear power in the country.
"Today temperatures reached record high levels, […] We must ask ourselves whether we can really make do without nuclear power." Noda said to Japanese television pointing to the high energy consumption of air conditioning.
Nuclear energy, which many thought were cheap and safe, has clearly proven to be neither of those for Japan. Then again in some countries, France being a great example, nuclear energy is absolute key in meeting the increasing energy demand.