First Lady Michelle Obama recently hosted the 2nd annual Kids' State Dinner, a colourful, healthy celebration just for wee ones at the White House.
The Obamas invited 54 junior top chefs from around the U.S. (and their guardians of course) to the East Wing for a celebration that was the culmination of a nationwide healthy cooking contest. The young guests of honour were winners of The Healthy Lunchtime Challenge the White House holds annually with recipe and food resource website Epicurious,
More than 1,200 recipe submissions rolled in from 8-12 year olds across the country and winners were chosen by how delicious their culinary creations were, how healthy – and by how much fun they were to cook and eat.
Some of the winning recipes were: Kickin' Chicken Salad, Miss Kitty's Egg Salad Sensation, an 11-year old's Wisconsin Solar Oven–Simmered Chili, Bring It On Brussels Sprout Wrap, Apple Alien – a dish of fruit meteors and veggie asteroids, and a 10-year old's Nummy No-Noodle Lasagna.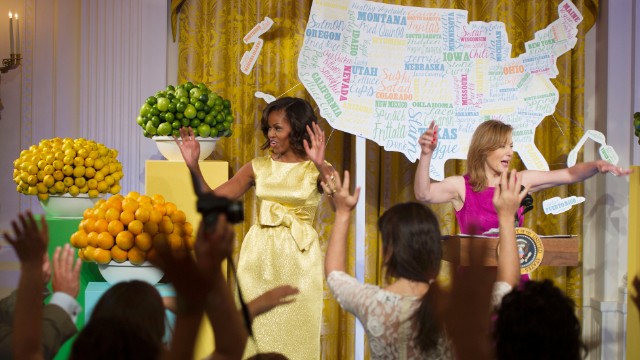 Michelle has long been an active spokesperson for healthy living; the Healthy Lunchtime Challenge is one of many outlet arms of her Let's Move.gov initiative.
You can download the 2013 Healthy Lunchtime Challenge cookbook here.