It's Bike to Work Week in BC—province-wide, people are putting the pedal to the metal in a much more Earth-friendly way.
2012 goals put out by the not-for-profit organizing group include 16,500 participants biking a total of 950,000 km. By choosing to bike instead of drive for one week, residents of these 19 different participating communities will save a whopping approximate 250,000 kilograms of carbon dioxide from entering the atmosphere.
This week, the International Energy Agency (IEA) reported that global carbon dioxide emissions from 2011 hit an all-time record high—of 31.6 gigatonnes.
China was revealed as being the biggest contributor of CO2, the country's emissions increasing by 9.3 percent (a rise influenced for a large part by a higher coal consumption). (Huffington Post)
In light of the data, scientists warned that regulations to cap the rise of global temperatures at 2 degrees Celsius above pre-industrial levels were necessary in order to "limit devastating climate effects like crop failure and melting glaciers."
Leaders from over 180 nations have been meeting in Bonn, Germany in anticipation of Kyoto's expiration date and to develop and sign a new global climate pact by 2015. When talks broke on Friday decision-makers had only recently come out of a deadlock. It has been widely reported that the talks have been a "waste of time" with disappointing end results.
"The meeting in Bonn, Germany saw angry exchanges between rich nations, fast-industrialising ones and those prone to climate impacts. Campaigners spoke of a "coalition of the unwilling" including the US, China, India and several Gulf states. (BBC News)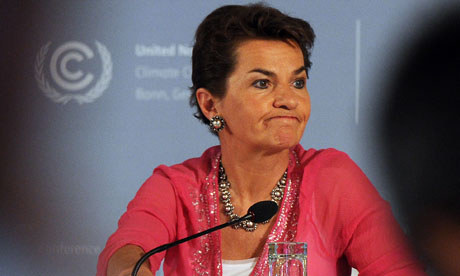 This socio-economic divide didn't seem to be the only elephant standing between groups in the room, either. News reports and editorials comment on the general lack of spirit lurking in the undertone of the debates. Tove Maria Ryding of Greenpeace International was one observer on scene who openly concluded that ambition had been largely absent.
"It's absurd to watch governments sit and point fingers and fight like little kids while the scientists explain about the terrifying impacts of climate change."
The "Durban Platform for Enhanced Action (ADP)" will replace Kyoto, with a goal to have the plan finalized by 2015 and to take effect by 2020. Across the board however, sights seem set low on the ability to meet such deadlines.
"(We know that) trade talks collapsed in Doha. Are we setting the stage for the collapse of climate negotiations?" said Mithika Mwenda, co-ordinator for campaign group the Pan-African Climate Justice Alliance.
"This is like the Titanic, where both developing countries and industrialised countries will sink." (Reuters)
60 second "real time" video of global carbon dioxide emissions: