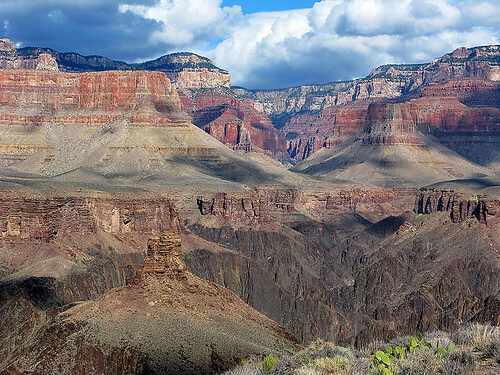 In 2012, the Obama administration banned most new hard-rock mining. However, despite that action, a uranium mine could be functional in the Grand Canyon area within the next two years. Located close to the South Rim entrance, Canyon Mine was originally operational when uranium prices were high, but it shut down more than two decades ago when demand dropped. Energy Fuel Resources, the company in charge of the mine, received approval to reopen based on an environmental study from the 80s. A number of environmental groups, including the Sierra Club, filed a lawsuit to stop the mine from opening, claiming the study has little relevance in today's day and age.
Contradictory Information
Energy Fuel Resources is standing by their mine. Despite the age of the study, they say the Forest Service evaluated the situation carefully and felt that it was appropriate to allow the mine to reopen. In addition, they cite the small size of the mine, emphasizing the fact that is only around 20 acres, and the fact that uranium is plentiful throughout the site.
Environmental groups, however, disagree with the categorization of the mine as small. They feel twenty acres is still a huge area of land, land which would undergo a radical transformation if stripped of its vegetation and forced to house mine shafts and buildings. In addition, they are concerned that the mine will contaminate the Red Wall aquifer, which provides a substantial amount of the Grand Canyon's water. Such pollution would have disastrous consequences. Finally, their lawsuit mentions the Red Butte area, land that is important to the Havasupai, Hopi, Navajo and Zuni tribes. Environmental groups believe that the mine will damage this area as well.
The History of Uranium Mining
Following World War II, uranium mines were prevalent across the country. However, in the early 90s, prices for uranium went down substantially due to less demand. Hundreds of mines were abandoned when they were no longer profitable.
Uranium prices have risen again, however, and many companies now hope to reopen their old mines. The lawsuit over the Canyon Mine is important, because it could set the precedence for other, similar situations. Several thousand mines near the Grand Canyon could potentially be impacted by the outcome of the case.
The battle to develop land in the Grand Canyon isn't a new one, although it has intensified in recent years. Environmental groups are committed to protecting the area, and private citizens are becoming more vocal about the issue as well. Many feel that it is no longer enough to simply engage in recycling or commit to hiring local businesses, like New Jersey pest control companies; they want their voice to be heard on other matters as well. The Grand Canyon, in particular, is a place near and dear to the hearts of many, and as a result, the mining issue is quickly becoming a hotly contested matter of debate.