Making the web rounds is this video "What Up, Steve?" by Halifax rapper Kyle McKenna, blasting Prime Minister Stephen Harper for a number of shoddy political moves against Canadians.
Another recent politically-themed hip-hop video from below the border making waves is "Food Fight: Saving Kids From Processed Junk" produced by Earth Amplified and featuring Stic.Man of veteran group Dead Prez. Food Fight points fat fingers at the modern food industry, comparing it to a network of drug dealers flooding the system with dangerous substances.
"Is your milk on drugs? Cuz your brain on Fox / factory farming spawning the Meatrix plot"
"Food Fight is the story of a kid who lives in a world where the food at the local corner store is killing his neighborhood – literally," states the video description. It's not a hysterical concept, nowadays. Headlines about the detriments of processed, non-organic and GMO foods on people and planet health flood news sources daily, and the effects of their consumption are rampant in the realities of health issues battering communities around the globe. Perhaps most notable of these effects surrounds the rapidly rising diabetes and obesity rates in children.
"Kit Kat like a click-clack holes in your genes" 

"There has been a 10-30 fold increase in American children with type 2 diabetes in the past 10 to 15 years. One in every three American children born in 2000 will likely be diagnosed with diabetes in their lifetime; similar rates are anticipated for Canadian children. In the next 15 years, it is anticipated that the global incidence of type 2 diabetes in children will increase by up to 50%. The development of type 2 diabetes is closely related to obesity; about 95% of children with type 2 diabetes are overweight at diagnosis. Given that the proportion of Canadian children who are overweight has tripled in the last 30 years, it is not surprising that incidence of type 2 diabetes among youth is rising." (Canadian Diabetes Association)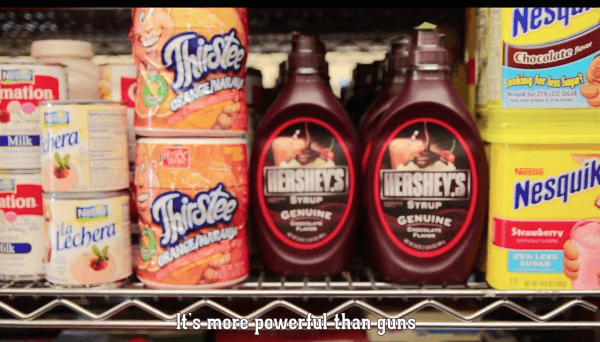 "Poor diets kill more brothers than pistols."
The correlation between poor diet and a variety of cancers (including colon, kidney and thyroid) has also been long documented. The percentage of cases attributed to obesity varies for different cancer types, but rests as high as at 40% for some; and a projection study of the future health and economic burdens of obesity estimates that if food trends continue as they are, obesity rates will lead to approximately 500,000 additional cases of cancer in the United States by 2030. (National Cancer Institute)
"Ain't nothing but a G thing / GMO MSG genocide of street gangs"
Despite all of these startling statistics, companies are consistently being outed for ill-advising on both the contents and consequences of consuming their products, including Monsanto and its ongoing GMO movement, nutritional associations'  accused ties to junk food companies, and the recent revealing of hordes of UK horse meat being sold inconspicuously as beef.
"This films shows guys in suits put things ON the shelf. The real damage to our kids and America is from these men at the top; the crimes of Big Ag at a convenience stores is so much worse than what anyone could ever do during a stickup." –Earth Amplified

"That's what the streets them say / That's what police them say / That's what the Babylon say / put cola upon lips and get popped the same way"
SHARE to teach kids who is behind it, and how to escape. 
‪http://SOSjuice.com/foodfight for School Curriculum + Song Download