Rather than embarking on a near-$10 billion, 25-year overhaul of its 18th-century stormwater infrastructure, Philadelphia has opted for a more prosaic, street-level approach.
The city is now into its seventh year of a 25-year commitment to spend $2.4 billion on developing a series of rain gardens, wetlands and other innovative ideas to catch stormwater.
The aim is to contain it where it falls rather than allowing it to run into sewers and pollute the city's waterways.
Traditionally, the waters around Philadelphia have ended up running into the Schuylkill and Delaware rivers.
Now the city has taken the stormwater issue by the grip of the neck and decided to do something about it.
The city, with the backing of the US government's Environmental Protection Agency (EPA), is now nearly one-third through a generational (normally 25 years) scheme to reduce its sewer overflows by an incredible 85 percent.
Overflows act as a necessary diversion to channel excess storm rains and, no doubt untreated effluent, into the city's outfalls when its sewage plants capacities are overwhelmed.
Instead, the city is creating green stormwater solutions within the urban street scene.
These include basic homespun ideas, such as downspout planters, to more complex bio-retention swales underlain by drains, filled with sandy soil, and planted with resilient species of grasses, perennials and trees.
By 2030, the system, which ranges from urban wetland to green roofs, will help create the United States' biggest green stormwater infrastructure.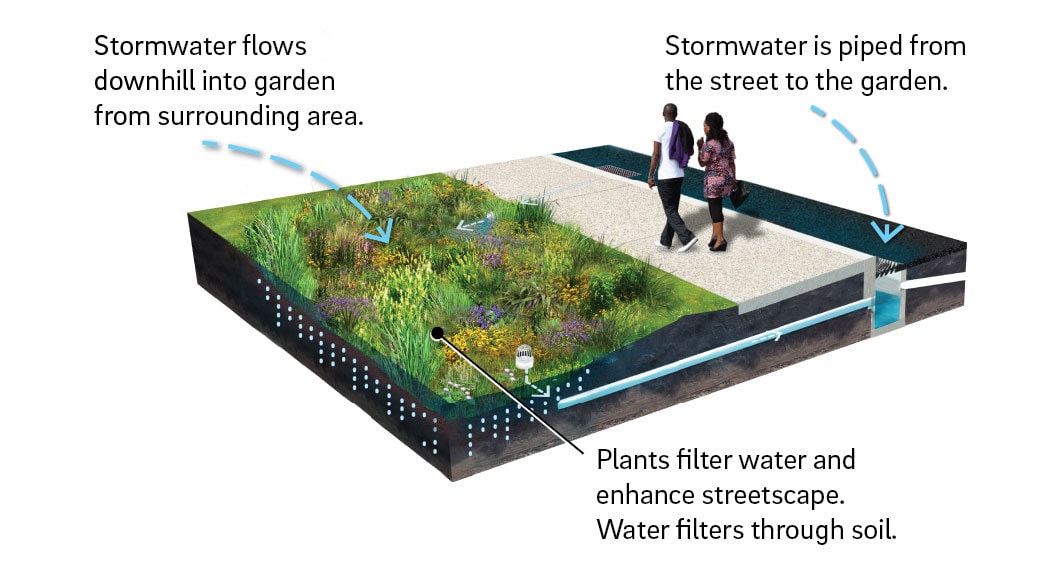 The root of the paradigm shift was low to small-scale proposals created in the 1990s to channel stormwater into small depressions to enter and be filtered naturally by plants and soil.
The success of the Philly scheme is the realisation of 'greened acres' which receive 1 million gallons of city rainfall each year.
Once "greened," an acre of impervious surface will have its first inch of runoff managed by stormwater infrastructure and the pollution from that acre sharply reduced.
There are proposals to create 10,000 such acres, with 1,100 already created and another 1,300 soon to come on stream.
The scheme is being advocated as a more permanent solution to decreasing water and air pollution.
"Philadelphia…..did a benefits analysis before they began that showed it would enhance air quality and climate resiliency," commented Nancy Stoner, who was influential in developing Philadelphia's green stormwater.
The initiative is rather delivering localised benefits for districts with few green spaces.
Since its undertaking, the Water Department, in conjunction with local groups, has completed 152 publicly funded green stormwater infrastructure projects, with more planned for schools, parking lots and rooftops.
The department has developed a GreenSTEM network that engages students in environmental monitoring and data collection.
Officers are taking the initiative from public to private places as well, offering home and landowners financial incentives from grants to stormwater fees, which are levied by the city to cover the cost of handling stormwater runoff.
This has demonstrated by the fact that 847 of the 1,073 greened acres created in 2017 were on private property.
As the Water Department's planners expand the network of greened acres, they are bringing social, economic, and environmental investment too often marginalized neighbourhoods.
Residents are reporting green infrastructure projects have reduced crime as green spaces proliferate, said Marc Cammarata, the Water Department's deputy commissioner of planning and environmental services.
"It's working. We're changing the way you do sustainable development in a city."