Americans generate 25 percent more garbage than average (an extra 1 million tons per week) during the holidays.—Environmental Protection Agency
Wrapping paper, packaging, tinsel and gas money; potato peels, tree trimmings, and receipts—soooo many receipts. It's like the only thing not going to waste this month is calories. (Soooo many calories.)
It's important to make use of the 3 R's wherever and whenever you can during the winter holidays. Here are some tips to keep your Christmas carbon footprint in check:
Recycling
Recycle trees and wreaths; compost big holiday meal garbage if you're hosting and encourage your hosts to do the same.
Shopping
Bring reusable cloth bags to the mall with you or re-use a few.
Wrapping
Try one of many little or no-waste wrapping options and get in the habit of re-using wrapping paper or decorative bags. Until then, try magazines, maps, old card fronts, photos, bubble wrap, fabric scraps, newspapers, or an infinite number of other makeshift materials as wrapping. Use leaves or flowers instead of bows and save greeting cards to turn into gift tags next year.
Entertaining
No matter how busy hosting gets, don't neglect recycling/composting. Make it easy for yourself and your guests by setting out recycling bins and having reusable cloths on hand for spills. Use reusable dishes, utensils, and cloth napkins and tablecloths (borrow or rent if you don't have enough to satisfy your guest load); if you MUST buy paper products, check for those with recycled paper content.
Electricity
Between Thanksgiving and New Years, Americans boost their electricity consumption by 27%. –RecycleWorks
There are a million ways to watch your power use. String LED lights on the tree and make sure you power up with rechargeable batteries. Decorate with candles, and turn the heat down when having guests over (their body heat is like a free furnace—yay!)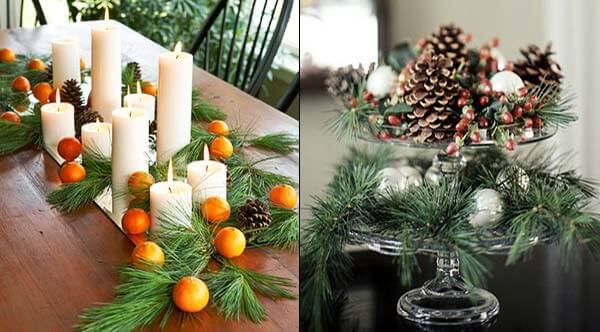 Greeting Cards
According to Hallmark, the 1.9 billion Christmas cards sold each year in the US could fill a football field ten stories high and consume 300,000 trees. –Green Christmas by Jennifer Bayse Sander, Peter Sander & Anne Basve
Make your own, recycle old ones, or send e-cards!
Getting Around
Some families drive a long way; others don't, but let's say a 100 Km drive in a Ford Focus is the norm. That's 145,964 tonnes of CO2. –Treehugger
As unappealing as it seems, try to skip out in the winter wonderland sometimes and take public transportation. Plan and consolidate on shopping trips, carpool with loved ones as much as possible and do your best not to make multiple runs to the store Christmas morning (take stock once and well to make sure you have the cranberry sauce, AND the garlic, AND the pie crust.)
Strive for greener ideals this holiday season! It's the best gift you can give the earth.
This article originally published December, 2011.