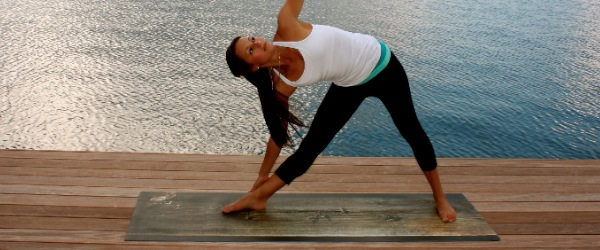 I Love the Plank yoga mats.
I would first off like to start by saying how cool are the designs. I am using the Plank LUXE Yoga Mat and seeing as I need some grounding in my life, the "wood" design always gives me that grounded feeling in my practice or teaching.
The mat definately sticks out from all the other mats in class and all my students are always asking me where to find one of the mats. I do have to say, that the side with the design does not have the best "grip" especially when you start to get sweaty, but if you flip it over the recycled rubber side is perfect.
Either way on any day you have two differnent sides to the mat depending on how you feel!
Thank you Plank Yoga Mats!!
---
Sasha Gilvesy is a creative vinyasa, hot and kids yoga instructor who combines her enthusiasm and love of yoga, teaching and children with knowledge of alignment, playful spirit and desire to help others deepen their practice in dynamic, challenging and fun classes. Her yoga practice began 10 years ago in a search to bring balance into her life and continues today teaching where ever her path takes her.
Sasha has completed her Bachelor of Arts, Health Science from the University of Western Ontario. Inspired by many great yoga teachers along the way she completed her 200 Hr RYT though YYOGA in Vancouver, Canada. She is also a certified Kids Yoga Teacher and YRIDE "spinn yoga teacher". Sasha is currently teaching yoga in Toronto, Canada at various yoga studios in the city, as well as offering private classes and corporate yoga.