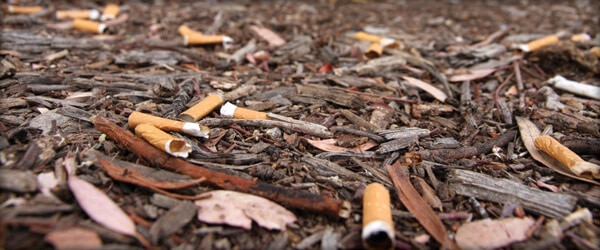 Quit Smoking! But first, Quit Littering!
While the Canadian and American Cancer Societies have been doing their best to help people quit smoking, a lesser-known organization called Keep America Beautiful has been doing its best to keep those who are still smoking from discarding their butts haphazardly. The program they started, appropriately called the Cigarette Litter Prevention Program, seems to have paid off, as Keep America Beautiful is reporting a 42% decrease in cigarette litter in 2010.
How They Did It
So just how did Keep America Beautiful and the CLPP achieve such an impressive reduction in cigarette butts on the ground? You may think it's easy to tell smokers not to chuck their butts wherever they want, but when it comes down to it there aren't many places to put them. That's why the organization increased the number of ash receptacles, giving smokers more places to drop their butts, and signs to better educate the public about reducing the amount of cigarette butt litter.
Contagious Side Effects
Better than just reducing the number of cigarette butts on the ground, Keep America Beautiful has found the new ash/trash receptacles have reduced the overall amount of litter, whether of tobacco origin or not. To help your community become as clean as the areas where Keep America Beautiful and the Cigarette Litter Prevention Program have been hard at work, try these ideas:
encourage enforcement of litter laws, including cigarette litter
raise awareness about the issue using public service messages
place ash receptacles at transition points such as entrances to public buildings
distribute pocket or portable ashtrays to adult smokers
We wish everyone the best in their efforts to quit smoking and keeping their communities clean!
If you have a great idea you'd like to share on how you've had success with litter reduction in your community, post it in the comments and we may feature it in our next story.