The Ontario Medical Association (OMA) has proposed that the government impose taxes, advertising bans, education programs and warning labels on packaging of junk food given the obesity epidemic.
OMA proclaims on their website:
"Across Canada, 59% of the adult population is considered to be overweight (36%) or obese (23%). An Ontario-specific study suggests that obesity in Ontario may be worse than the national average. A recent study by the University of Ottawa Heart Institute (UOHI) concluded that over 70% of adults in Ontario are overweight or obese."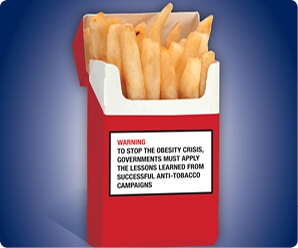 The doctors , who were inspired from anti-tobacco campaigns, write:
Tobacco and food products are different in many ways, and unlike food, tobacco products are unique in that they have no safe level of use, but lessons can still be learned from the very significant reduction in smoking rates, and the methodologies employed to achieve these.
Needless to say, the junk food industry is far from pleased. The Globe and Mail quotes:
"Food is not tobacco. Tobacco has no place in a healthy, balanced lifestyle. A tax on food and beverages is nothing but a tax grab that will hurt lower- and middle-income Ontarians the most," FCPC [Food & Consumer Products of Canada] vice-president Phyllis Tanaka said in a statement, which noted that she is a registered dietitian.
But that's not what the doctors are looking to do. Doug Weir, the head of the Ontario Medical Association states: "People can still eat junk food. We're not doing anything to stop them from eating it. But we want them to be aware of what they're doing."
The recommendations from the Ontario Medical Association include:
1. The lessons learned from the strategies of the tobacco control movement should be applied to the fight against obesity.
2. Increase taxes on high-sugar, high-fat, low-nutrition junk foods and reduce them on healthier foods, since price increases through taxation proved to have the greatest influence on tobacco demand.
3. Require information on packaging about the health risks associated with excess consumption of high-sugar, high-fat foods that provide little nutritional value, and identify opportunities for including health warnings.
4. Retail displays of high-sugar, high-fat foods that provide little nutritional value should be clearly marked with prominent information advising consumers of the health risks associated with excessive consumption of these foods.
5. There should be restrictions on all types of advertising to children, including package advertising and sponsorships.
6. If advertising of high-sugar, high-fat foods that provide little nutritional value to children continues, educational campaigns about the harmful effects of these foods, like those undertaken with respect to tobacco, should be produced to counteract the industry's advertising and product promotions.
7. As the next step to Ontario's School Food and Beverage Policy, which restricts junk food in schools, there should be restrictions placed on the availability of high-sugar, low-nutritional value foods and drinks in sports and other recreational facilities primarily frequented by young people.