Paris conjures up some beautiful and romantic images.
Red roses, the Eiffel tower, corked wine, freshly baked bread. The aromas and atmosphere of France can't be matched anywhere else in the world and all work together to contribute to making Paris known as the "City of Love".
But not all is smelling quite so sweet in Paris, as record-setting pollution levels threaten to dampen the romantic mood.
Paris had been experiencing unseasonably warm weather recently, which has triggered high air pollution levels. The city responded by offering free public transportation and bike sharing in the hopes that people would stop driving their cars as much, reducing their CO2 emissions.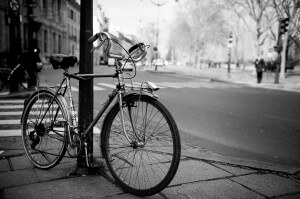 Similar measures have been made in various countries, such as Hassalt in Belgium (although they've stopped offering this service since 2013), Tallinn in Estonia and Ploiesti in Romania. These efforts have continuously resulted in huge increases in ridership and reductions in smog levels.
Why now?
Reports say that the smog over the weekend of free transportation was invisible, the skies were clear and people seemed to rejoice in the good weather and free transport. However, records showed that air pollution was in fact at a very dangerous level.
Paris has a "pollution alert" when they see 80 micro-grams of tiny particulate matter for every cubic meter of air (approximately what London experiences on a regular basis). However, data showed that Paris was experiencing 147 micro-grams of particulate matter per cubic meter, and levels only continued to climb as the week progressed.
This meant that one weekend of reduced CO2 emissions from the free transportation initiative just wasn't enough.
Therefore, Paris, and 22 of the surrounding areas, decided to take it things to the next level by banning nearly half of vehicles from their roads on specific days.
On Mondays, private diesel and petrol cars and motorcycles with even registration numbers will be banned from the streets. On Tuesdays, cars with odd registration numbers will be banned from the streets. Hybrids and electric cars are exempt from the rule, as are cars carrying three of more passengers. All taxis, buses, emergency vehicles are also exempt, but trucks are banned.
How will this rule be enforced?
Approximately 700 police officers will be stationed at checkpoints through the city., People who don't obey the rules will be dealt a €22 ($31) fine.
This isn't the first time they've tried the approach before in 1997 with good results. In an interview with the Minister for Ecology, Philippe Martin for Agence France-Presse, he stated that while he understood the "difficulties, the irritation and even anger" over the new move they "just had to take this decision".
Public transport will remain free as the ban is in progress.
Why Paris?
Paris is particularly vulnerable to air pollution due to a high portion of their population, 60% of motorists, driving diesel-engine cars. This is due to a misconception in the 1960s that diesel-engines were less polluting than petrol engines, that lead the French government to tax diesel-engines less heavily than petrol ones.
This lead to the French car giants, Renault and Peugeot-Citroen investing heavily in diesel engines, and these became the cars of choice for many Parisians.
So what do you think? Is this a practical response, or will it disrupt business and trade too much?