Whether or not you have tried a bit of dried seaweed at an Asian restaurant, you should carefully consider the possibility of adding this sea vegetable to your diet. The health benefits of this Asian staple are amazing, and you can doctor it up in a variety of ways to please your palate. It might even become one of your favorite healthy foods.
Seaweed comes in many species and forms. The most popular way to eat it is probably dried (the nori variety), in square or rectangular shapes. Most people find the taste fairly mild, even bland, but you can add salt or spices to give it a little zing.
Seaweed Benefits
Here are a few of the health benefits of eating seaweed:
It is extremely low-calorie
It has cancer-fighting phytochemicals and antioxidants, which boost your immune system
Ounce for ounce, this humble plant has more vitamins and minerals than any other plant—all 56 needed to survive, in fact
It is rich in B-vitamins, which help to regulate your mood
It has lots of iodine, which can be hard to find in other parts of your diet, and helps to stunt tumor growth and ensure healthy brain and thyroid gland functioning
It is full of vitamin A, which helps your complexion and eyesight
It is a great source of protein. The nori variety is 28% protein, for instance, a wonderful zero-fat source
It is full of magnesium, which keeps your blood pressure down
It is a great source of fiber, which will help you to stay regular
As for finding seaweed (or more commonly referred to as "sea vegetables" now, to avoid the stigma of the word "weed"), Asian stores will always have it in a variety of forms. Your local health food store should also have a supply, although the prices there might be a little higher. As with many items, the more you buy, the cheaper it is by the unit. If you plan on adding sea vegetables to your diet in a big way, you can stock up on sheets of the dried variety; it will store for weeks with no problem.
Adding Seaweed to Your Diet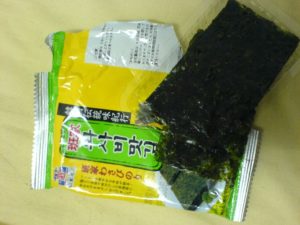 Those who advocate adding sea vegetables to your diet recommend starting with the dried, snack variety. Once you figure out how you like to eat those (with salt? wasabi powder? brushed with sesame oil?), you can add sea vegetables in other forms to your standard recipes.
Here are several creative ways to work sea vegetables into your cooking:
Add a sheet of dried seaweed or a handful of shredded seaweed into a recipe that can easily absorb it—fried rice? soups? Sea vegetables, naturally, go great in Asian soups, especially miso soup
Make a sushi bowl by using sushi ingredients in thicker slices, plus rice, then add sea vegetables to top it off, as you would tortilla chips for a taco salad
Sprinkle dried nori on your salad, or work sea vegetables in with your lettuce, spinach and other greens in your next tossed salad
Stir-fry sea vegetables (after they have been soaked in water) with other veggies in your wok. Adding sesame oil and soy sauce will only enhance their flavor
Surprise the family with a side of sea vegetable as an addition to the vegetable menu that you add to any of your staples. Who knows? Your children might beg you for dried seaweed with every meal, and thus begin a lifelong habit of eating this super-food.
Sea vegetables could be one of the best-kept secrets in the food world, but more and more people are figuring out how to include them in their diet. Those who are eating sea vegetables are enjoying the many benefits described above and not sacrificing taste in the process.
Sea vegetables should be considered a gem of Asian cuisine that is now being discovered worldwide—to everyone's benefit.