Sidewalk Labs, a unit of Google's parent company, Alphabet Inc. has just signed a deal with Waterfront Toronto to create a new kind of neighborhood demonstrating how data-driven technology can improve city life.
$50 million will be invested in the yearlong planning process for the 12-acre district of Quayside. If plans push through, it will include 3.3 million square feet of space to be used for residential, office, and commercial space, including a new headquarters for Google in Canada.
"Sidewalk Toronto will blend people-centered urban design with cutting-edge technology to achieve new standards of sustainability, affordability, mobility, and economic opportunity."
Smart city plans include the banning of private cars allowing for a more pedestrian-friendly district. Because the city is going to be heavily pedestrianized, streets will be narrow.
Autonomous vehicles and freight robots will operate in the streets and underground tunnels. This includes industrial robots that pass through an underground network of utility tunnels to manage the collection of trash and recyclables.
Self-driving bots will be controlled via apps like Waymo and Lyft. Another app will also be developed to manage parking rates based on real-time transit availability.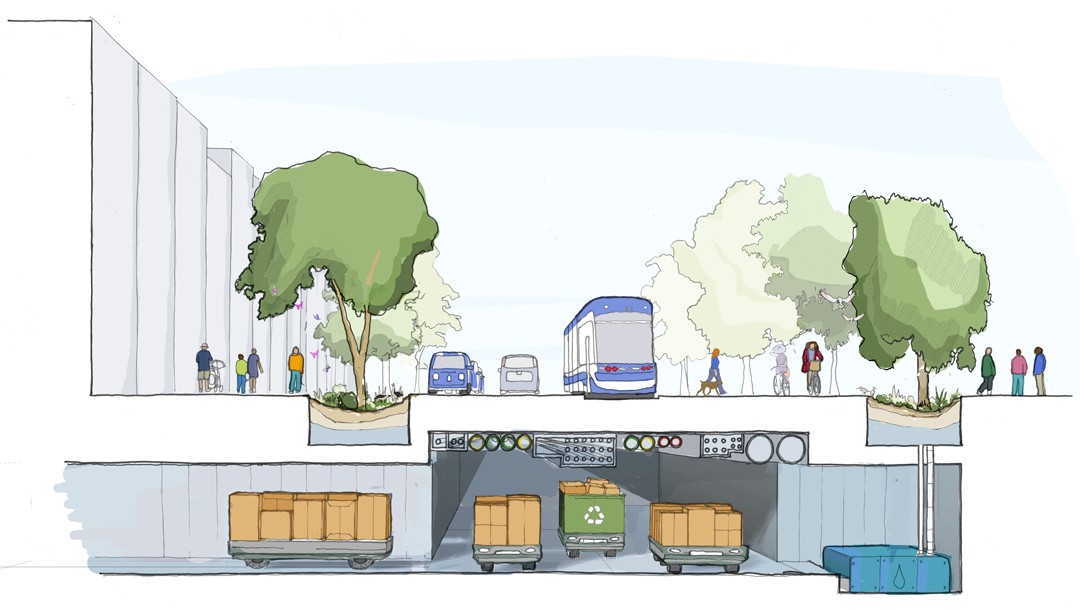 Zoning restrictions will also be more flexible allowing for a radical mix of properties including retail, residence, maker, and office spaces. The buildings will be hooked to an energy system to help reduce energy consumption by 95% below city regulations.
Sensors will be used to constantly monitor temperature, light, sound, and structural integrity of people, traffic, and movement of goods. These same sensors will help guide the route of self-driving vehicles as well as identify areas that could benefit from optimization like adding a shop or a bicycle lane.
Sidewalk Toronto promises to show how emerging technologies can help make cities more affordable, easier to travel around in, and more sustainable. The project was initiated by Waterfront Toronto in March 2017 calling for a partner that will help them develop the Quayside site. It is set to be off the ramp after the yearlong planning process.
The project is going to be the the biggest smart city that uses information technology to guide its operations. Both parties involved in "Sidewalk Toronto" hope that the project will help challenge existing policies regarding privacy and governance.
All illustrations courtesy of Sidewalk Toronto