When it comes to the world of food storage, nothing beats Ziploc bags, yet. Since its inception in the 1960s, these flexible bags have made packing lunch or freezing leftovers a tad bit easier.
However, as much as they are helpful, they risk polluting the environment with plastic waste. Ziploc bags fall under the category of single-use plastic bags, and most people are guilty of discarding them in the trash bin without much thought.
This waste ends up in landfills and bodies of water, affecting birds and marine life. Even worse is the fact that plastic bags take hundreds of years to degrade. Some never do.
The good news is that there are plenty of natural and Eco-friendly alternatives to Ziploc bags. From Lunchskin sandwich bags to Vegan food wraps, here are eight options you can try out:
Bees Wrap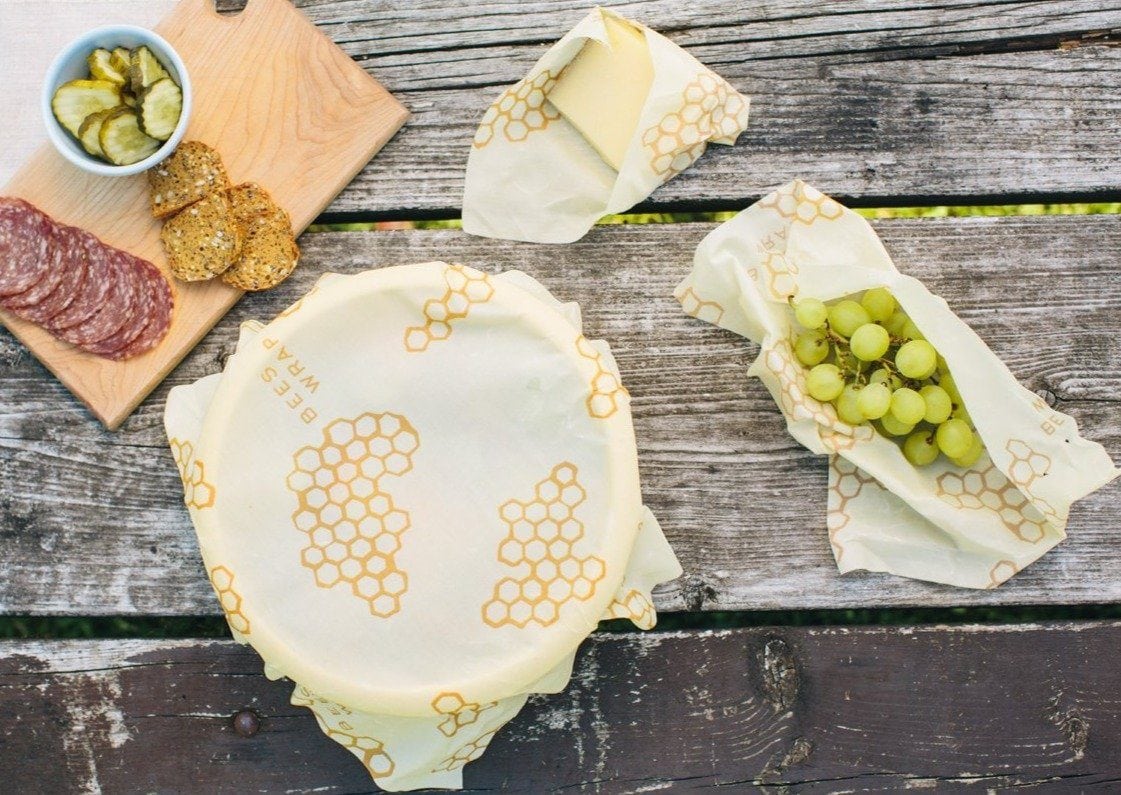 Bees Wrap is a biodegradable packaging made from 100% recycled paper. It is a unique Eco-friendly storage alternative that wraps your food by using just the heat of your hands! This self-sealing bag is naturally breathable, so your food stays fresher for longer.
The Wrap is made from 100% organic cotton sheets infused with beeswax, jojoba oil, and tree resin. The bags are washable and can be reused severally. To wash, simply use Eco-friendly soap and lukewarm water, then hang to dry.
The wraps are also biodegradable; thus, once they reach the end of their lifespan, you can throw them in your compost pile.
Stasher reusable silicone bag
Stasher bags are made from platinum, food-grade silicone, which is plastic-free material. They come in a variety of colors and sizes and are designed to be used indefinitely.
You can use them to store veggies in the fridge or cook your food in the oven or microwave. That they are non-toxic means they can be subjected to high temperatures of up to 400 degrees Fahrenheit.
These versatile bags can also go in the dishwasher, so you don't have to endure the struggle of hand washing.
Their locking mechanism is simple to use thanks to the wide opening, making it easy to get contents inside.
Lunchskin paper sandwich bags
Looking for a solid, Eco-friendly Ziploc bag alternative for your kid's lunchbox? Then look no further than the Lunchskin paper sandwich bag.
The bags come in thin packaging suitable for sandwiches or dry food. They come with 60 stickers that guarantee freshness.
Lunchskin bags are made of pure wood pulp and non-waxed compostable paper. The advantage of these bags is that they hardly require a complete seal, thus making them perfect for kids that struggle with tight Ziploc closure.
Pyrex glass storage containers
Pyrex storage containers are often a common sighting in many zero-waste kitchens. The containers are made from durable, high-tempered glass that is freezer, microwave, and pre-heated oven safe.
The tempered glass is a standout feature of the Pyrex storage containers meaning it can withstand any oven temperature.
The dishes come in colorful lids, making it easier to match their shape to the respective container. Not to forget, the containers are dishwasher safe for super-easy cleaning.
Ziptuck Reusable sandwich bags
Ziptucks are a sustainable and convenient storage solution that can be used for snacks or as travel or lunch bags. They are food-safe and BPA-free and can be used over and over.
The bags come in a lock seal design that is leak-proof and air-tight, so your contents stay fresh for longer.
You can use them in the freezer, and the advantage is that they lie flat to take up minimal storage space. Just like the packaging mentioned earlier, Ziptucks are dishwasher safe. For best results, place the bags on the top rack, then low heat for a quick refresher.
Chicago Snack Time rePETe (Recycled PET)
The Snack Time rePETe comes in a set that includes three adjustable, reusable snack and sandwich bags. The bags are made with BPA, phthalate, lead, and PVC-free food-safe materials.
They are ideal for sandwiches and snacks on the go.
Its secure hook and loop closure can expand to fit a full-size sandwich or fold-over for small snacks. The ChicoBags also have water and stain-resistant liner that makes for easy cleaning.
They are a favorite among many people owing to their versatility and how easy they are to travel with.
Khala & Co. Vegan Food Wrap
Tired of packing food in plastic bags and wraps? Perhaps it's time you gave reusable vegan clothes a try. The Khala food wraps are eco-friendly packaging made from consciously sourced, 100% plant-based ingredients.
The wraps come in three or four sets and can be used just about anywhere, making them versatile. They are durable and 100% fully compostable at the end of their life.
EcoFresh Silicone Food Storage Bag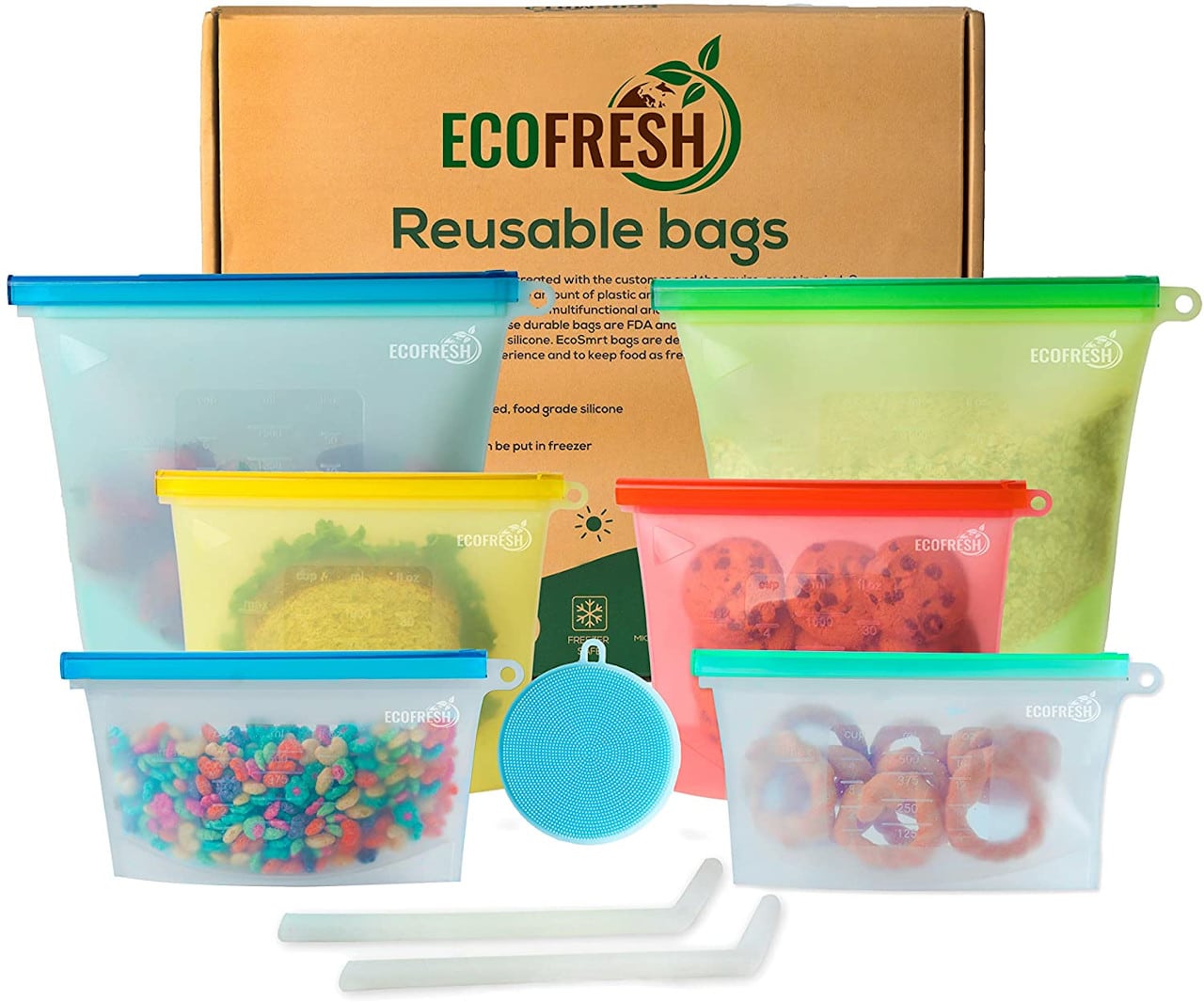 The EcoFresh silicone reusable bags are yet another suitable alternative to Ziploc bags for that environment-conscious person. These easy-to-use packages are 100% safe, non-toxic, non-reactive, and non-allergenic.
They are multi-functional and thus can be used in the oven, freezer, and dishwasher. Likewise, the bags have a leak-proof closure, so you don't have to worry about your food going bad anytime soon.
With the EcoFresh storage bags, you don't need to stress over having a cluttered fridge. The packages can be labeled, making it easy to organize the refrigerator.
Oh, not forgetting that these snack bags are made from the highest quality food-grade silicones, which are resistant to temperatures of up to 482 degrees. You can, therefore, feel comfortable cleaning them in the dishwasher.