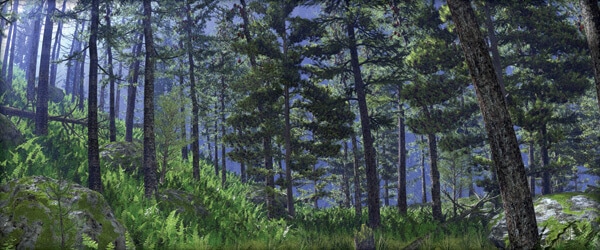 In an announcement dated Tuesday, May 18, 2010, a number of Canadian forest companies and environmental groups came together in an agreement to protect the boreal forests and the forest caribou.
The forest caribou, or wild woodland caribou, a sub-species of reindeer, were once common throughout the North American boreal forest. Their range stretched from Alaska to Newfoundland and Labrador, and as far south as the New England States, Idaho, and Washington. However, they have disappeared throughout most of their southern range, and are classified as threatened elsewhere in their former habitat. Caribou have declined in their distribution and numbers due to the impacts on their habitat from forestry and resource development (and accompanying roads), predation, and over-hunting.
The northern boreal forest in Canada covers an area of 300 million hectares. Logging operations in this region clear about 650000 hectares of trees annually, an area equal in size to Banff National Park, in the Canadian Rockies.
This new agreement sets aside 29 million hectares of forest for caribou habitat, and institutes a complete halt to logging in these forest areas. In another 43 million hectares, the groups involved have committed to implementing ecosystem-based forest management practices and protecting species at risk in that area. This protects close to 25% of Canada's boreal forest, and it is one of the largest protected forest areas in the world.
The agreement comes after years of negotiating, and many more years of protesting. Nine environmental groups signed on to the plan, including Greenpeace and the David Suzuki Foundation, along with the twelve major forest product companies in Canada, such as AbitibiBowater, Alberta Pacific Forest Industries and Weyerhaeuser Company Limited.
The agreement is to be phased in over three years, and will include independent monitoring to ensure compliance. For both sides, this marks a new phase in their relationship, with land set aside for stewardship, but at the same time guaranteeing that the logging companies will have access to the forest resources they need. With the signing of this agreement, the environmental groups have agreed to withdraw their "Do Not Buy" campaign against the forestry companies.
For the logging companies, this is a public relations windfall, giving them good press. At the same time, this agreement will likely drive up the cost of wood, or at least allow them to drive up the price, which will improve their bottom line in an era when demands for pulp and paper products, especially news print, are dropping fast.
While for some groups the agreement does not go far enough, or even too far, for others it constitutes a major victory in their fight against deforestation. It shows everyone that compromise is possible, and the benefits are significant. Especially for the woodland caribou.