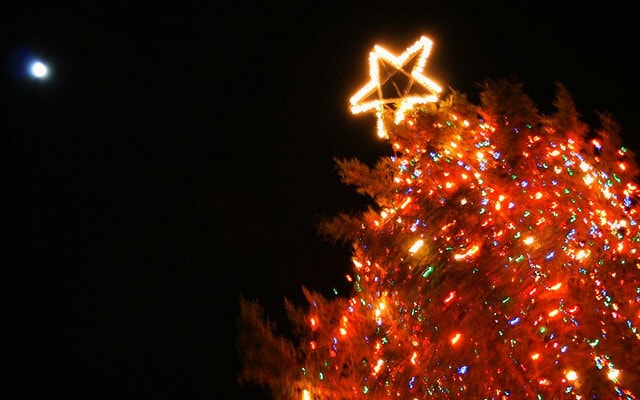 If Christmas lights have been the bane of your holiday, then there just may be good news on the horizon: Genetic engineers have come up with a method where your Christmas tree could grow its own lights. Sound more like science fiction than reality? Read on.
Five postgraduate students at the University of Hertfordshire in the UK have come up with an idea for glowing pine needles for their entry in a biotechnology competition. Their entry, which sounds too good to be true, is feasible since genetic engineers have already created glowing mice, silk, and potatoes.
The postgraduate team made a plan to modify a Douglas spruce with two genes from fluorescent jellyfish and fireflies to make them light up. The first gene produces green fluorescent protein (GFP) and the second produces an enzyme luciferase. The modification to the trees would be made by infecting the seedlings of the tree with a bacterium carrying the two genes.
BBC writes:
A chemical compound called luciferin is needed to activate luciferase, which in turn "switches on" GFP and makes it glow. In the case of the luminous Douglas spruce, the luciferin would be mixed into a special fertilizer sold with the tree. The genes for green fluorescence have been widely used by genetic engineers because they allows scientists to see at a glance whether an attempt to introduce a gene into an organism has been successful. Blue fluorescent proteins have also been discovered and, last month, a red fluorescent protein was found in a coral. This means that, in theory, the GM Christmas tree could grow its own multicoloured lights.
The only caveat: The potential cost.
"We're talking about a green luminescent Christmas tree that glows in the dark and produces a noticeable light during the day," said Katy Presland, a neurophysiology student. "It is quite feasible. The only problem in reality is the cost. We calculate that the initial trees would cost about £200, which means going for the upper end of the market. But I'm sure a lot of people would love them, especially the Americans."