This school year the teachers are in trouble– and the first bell hasn't even rung! Canadian news is buzzing with warnings that many teachers using live organisms as teaching tools are wrongly disposing of their subjects afterward (read: letting them go outside) and that "many of the most popular species including crayfish, amphibians and various aquatic plants" have have been identified as potential culprits in the invasion of Canadian flora in recent years.  (CBC)
Animals aside, even invasive plant species alone are a big deal. The Canadian Food Inspection Agency estimates that invasive plants cost the Canadian agricultural community approximately $2.2 billion each year. Being able to put a number on this monetary loss is relatively new to science and represents a "crude" estimate from our fragmented knowledge and recognition of alien species– until they've well overtaken their native counterparts. But we know it is a loss that reaches across many industries and comes with several other pieces of baggage, such as accompanying insects and pathogens.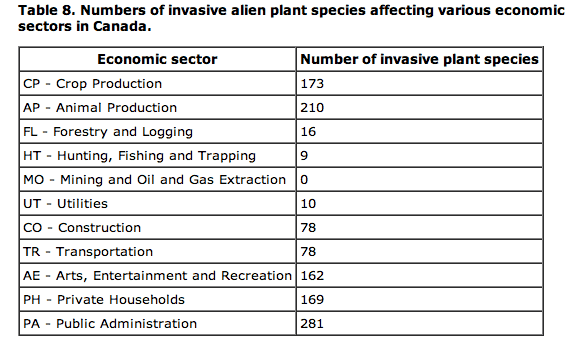 A particularly daunting species to wetlands in Canada is 'Phrag' (Phragmites australis). A government rep appointed to tackle the issue of "Canada's worst invasive plant" spoke from Ontario a few weeks ago (Toronto Star) to talk about the "pretty" invasive plant that breeds quicker than a pair of rabbits.
Useless fact: According to the Star, Phrag had been in Canada 100 years before it was discovered in the early 1900's to have origins in Europe, and at some points in the Maritimes was known as "elephant grass" because it was believed to be introduced on trains carrying elephants and other circus animals.
"Invasive species are actually known to be the second biggest threat to biodiversity after habitat loss," said Nathalie LeBlanc, a biologist with the Department of Natural Resources and member of the NB Invasive Species Council. (CBC)
Forty-four different species have been identified as "at risk" where invasive plants appear to be factors in their at-risk status. These groups include plants, birds, amphibians, insects, and one reptile. (CFIA)
A number of Canada's provincial government departments and regulatory agencies are in the process of developing guidelines for the prevention of the spreading of invasive species. Some of these include:
The Canadian Food Inspection Agency currently regulates 21 invasive plant taxa by listing them as Class 1 Prohibited Noxious Weed Seed under the Weed Seeds Order (2005) of the Seeds Act.
The British Columbia Oil and Gas Commission requires oil and gas construction companies to have heavy equipment cleaned when entering British Columbia from Alberta, and when moving from site to site.
In Alberta, Ducks Unlimited prohibits the seeding of forage mixes containing invasive species such as smooth brome (Bromus inermis) on sites that they manage.
The weed-free hay program in Alberta is offered in partnership with municipalities and Alberta Agriculture, and is based on inspection of hay fields for invasive plants before cutting. Hay is certified to be free of seeds of 73 species of designated weeds or undesirable plants, and is bound with a special coloured twine to identify it.
In Saskatchewan's provincial forest lands, the Saskatchewan Environment Lands Administration prohibits noxious weeds in hunting bait and reclamation seed, and requires that native species be used for reclamation.
Read the Canadian Food Inspection Agency's full technical 2011 report on invasive species.