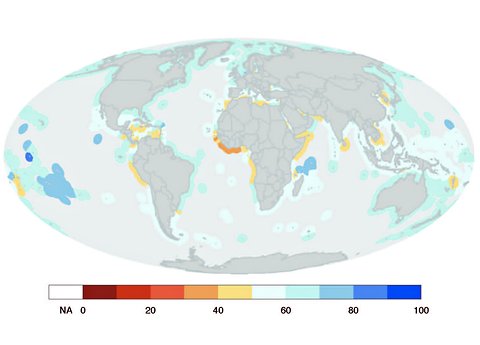 It is being hailed as an important milestone for ocean management. A North American team has created the first Ocean Health Index. It is a tool for evaluating the state of the world's oceans. And takes into account the major factors that influence the quality of regional marine ecosystems. These ecosystems include fisheries, biodiversity, tourism and carbon storage. The index then assigns a score from zero to 100 for each place.
Collaborators say that globally, the oceans received an ocean health score of 60. The lowest score was 36 for Sierra Leone's waters. And the highest was 86 for waters surrounding the uninhabited Jarvis Island, near Hawaii.
The index creators include dozens of scientists, policymakers and conservationists in the United States and Canada. They joined forces over the last two years to create the tool, which is described in an online paper in the journal Nature. The group's goal was to find a way to compare different parts of the ocean that are heavily used by humans. And ultimately, it wanted to determine whether this activity is sustainable or in need of better management.
This week, the New York Times (NYT) spoke to various members of the group. Dr. Ben Halpern is director of the Center for Marine Assessment and Planning at the University of California, Santa Barbara. He told the NYT that the indices provide people who ply the oceans an idea of how their practices affect the marine resources they depend on.
Reports say the NOAA has been focusing its energies on a full "ecosystems-based approach" to ocean management since U.S. President Barack signed the National Ocean Policy into law in 2010.
Collaborators have reportedly said the new index will be a tremendous help to governments.
Most of the discrete marine regions measured by the project are in waters within 200 miles of a country's shores. These are called "exclusive economic zones" and each nation within is acknowledged to have control over its resources. Cleanliness of the water, coastal protection and the "sense of place" are other factors that the index considers.
The NYT says the creators hope to fine-tune some of the factors built into the index and reassess the world's oceans over time. They hope to do all this while communicating with policymakers and ocean managers.