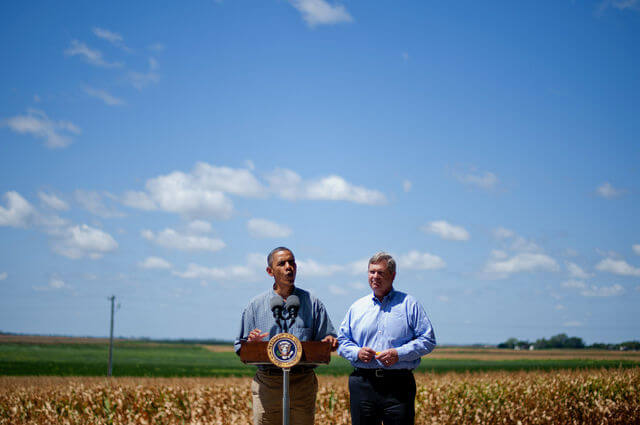 Thank goodness for global warming. Without it, President Obama might not have had a carrot to string along the good folks in Iowa as the worst drought in 50 years is hitting the nation's top producer of corn, soybeans, ethanol, hogs and other agricultural products particularly hard.
To hell with carrots, let's make it a pork chop. And let's make it $170 million worth.
As Obama campaigns through the first state to spit in the face of the First Amendment by making it a crime for activists to take undercover video of food safety violations and animal rights abuses, he announced that we the people will be bailing the pork, chicken, lamb and catfish industries out of the hole they dug themselves into by buying up $100 million of pork, $50 million of chicken, and $10 million of both lamb and catfish products to feed to poor people.
Because we need sicker and fatter poor people who will need more federal assistance to pay for the health bills that will follow a diet rich in pork chops and chicken wings.
And I do have a feeling the very same folks who benefitted from my tax dollars bailing out the industry they have based on wasting food, water and land to feed and then torture animals will come out against the welfare assistance that will be needed when our sicker, fatter poor people can't work.
Remember that guy? I think his name was Jesus. He said something like "Give a man a [cat]fish, feed him for a day. Teach a man to fish, feed him for a lifetime."
Why can't my tax dollars now going to support an industry that's killing people, animals and the planet, go toward teaching people how to grow their own vegetables so they won't need to rely so heavily on federal assistance programs?
But as the USDA recently proved when it accidentally encouraged and then quickly maligned the Johns Hopkins' Bloomberg School of Public Health's non-profit initiative, Meatless Mondays, promoting vegetables is as un-American as Hitler in a Speedo, even for just one lousy day a week.
The drought the meat industry – and its byproduct the corn and soybean industries – is suffering so badly from is a result of its own irresponsible practices.
Two environmental specialists from the World Bank found that taking into account direct and indirect emissions, the livestock industry is guilty of contributing 51 percent of the global warming responsible for the drought sucking its own cash cow dry.
Not to worry though. Our tax dollars will prop up the industry as a billion people across the globe go hungry while we feed our grain to animals that will provide much less food than what we put into them.
The Guardian reports that Oxfam is calling for "urgent action" as the rising cost of food is threatening a return to the 2008 crisis when "similar price hikes triggered riots around the world."
If you still don't think that innocent-looking little hamburger could really be hurting anything, take a look at these statistics from an NPR special:
What It Takes To Make A Quarter-Pound Hamburger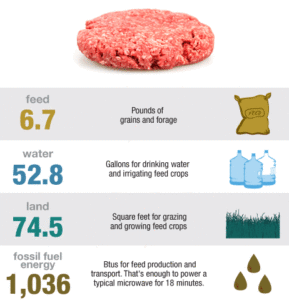 Source: J.L. Capper, Journal of Animal Science, December, 2011. Credit: Producers: Eliza Barclay, Jessica Stoller-Conrad; Designer: Kevin Uhrmacher/NPR
So where's the logic in bailing out the meat industry? Teach a man to fish and he won't need to buy it. And he might not vote for you when you promise to give away his tax money to industries polluting the water where his fish live.