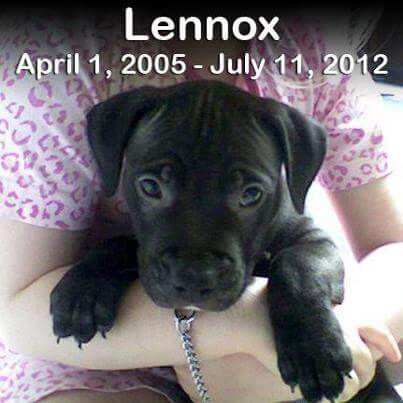 Perhaps the only good thing we can take out of the long incarceration and murder of Lennox, the black terrier-mix mutt whose only crime was to resemble a pit bull in Northern Ireland where the breed is banned, is that his plight inspired thousands of people from all walks of life all over the globe to mobilize against the injustice he fell victim to.
Lennox was seized in May 2010 by the City of Belfast in Northern Ireland for looking like a pit bull. After more than two years of legal battles, a petition with more than 200,000 signatures, a Facebook page liked by 119,000 people, numerous protests outside the British Consulate, an offer by celebrity dog trainer Victoria Stillwell to adopt and re-home Lennox in the United States and even a plea by First Minister of Northern Ireland Peter Robinson who tweated "Spoke to Lord Mayor about Lennox. Suggested BCC should seriously look at re-homing option. Why exercise the order if there's an alternative?", Lennox was killed on order of the Belfast City Council without ever being allowed a visit by his desperate human family.
The anger, disappointment and raw hurt going through the newly formed community of people who made this dog's unjust persecution a personal issue is palpable. Many people simply cannot believe that all of their efforts – especially the obvious re-homing alternative – fell on the Belfast City Council's deaf ears and dead hearts.
They complained of getting death threats and being harassed over their obstinate insistence that years of solitary confinement in a concrete enclosure ending in death was the only appropriate treatment of a family dog who had never bitten anyone. While death threats and harassment are obviously counterproductive, they were actions of desperation from people who felt the pure injustice of the case and clearly suffered from the inability of logic and compassion to convince a handful of people to use their power to exercise mercy rather than death.
According to savelennox.com, the city council not only refused to allow the family to say goodbye to their family member, return the body for burial or notify them of when they were actually killing the dog, but now is refusing to return Lennox's collar to the family's 11-year-old girl, Brooke, who is registered as disabled. The site describes how because of Brooke's illness, she bonded with Lennox as she was not able to play with other children.
Hollywood could hardly have conjured a more perfect villain than the Belfast City Council. The tragedy at every twist in this story is hard to stomach – a canine family member taken from its loving home because of its resemblance to a certain breed, living for years in a filthy, barren, concrete kennel, confused and alone and waiting for its family to come and get him, and then ultimately killed. If this had happened to a human it would be considered racism at its worst.
Breed specific laws exist all over the world. While it's true that pit bulls have been bred throughout the ages to fight one another, they are not doomed to that fate. They thrive in loving families just like any other canine and should not be singled out for death simply because they have inherited traits that we created in the first place. Aggressive behavior has been shown to be more of a problem with inadequate care rather than a dog's breed.
Hopefully this pointless and easily avoidable tragedy will help to shed light on misdirected breed specific legislation that completely bans dogs that even look like pit bulls.
Certain legislation, like San Francisco's law that requires all pit bulls living in the city to be spayed or neutered, is more reasonable than outright bans. While the law was passed with the intent to minimize dog bites, it may actually help to decrease the huge number of pit bulls killed in shelters across the United States.
Pit Bull Advocate 101 reports that one million of the three to four million animals killed in shelters every year are pit bulls, and that 75 percent of U.S. shelters kill this breed upon arrival with no period offering them for adoption.
Requiring spay and neuter for pit bulls is a start as they suffer the most from our throwaway culture, but rather than being based on discrimination and hysteria, spay/neuter laws should extend to all species of companion animals so that at some point they will be considered the true treasures and blessings that they are, instead of an easily acquired, self-serving form of amusement so often abandoned when the new puppy smell wears off.
Lennox is gone, there is no going back. Let's move forward with a renewed energy to combat cruelty and injustice to all animals.
Meanwhile, you can avoid visiting Belfast, and tell the Belfast City Council exactly what you think about their actions: Belfast City Council complaint form.