After two years of campaigning, we can finally report a confirmed happy ending for Sunder, the young elephant tortured and held in chains at an Indian temple. Photographic evidence and reports show the long-tormented animal is now safe at the Bannerghatta National Park near Bangalore, where he can enjoy peace and freedom for the first time with 13 other elephants.
Sunder first came on our radar in summer 2012, when Paul McCartney took time out from his Olympic rehearsals to write to Indian leaders pleading for Sunder's release. His activist efforts were joined by other international stars, including Pamela Anderson and Bollywood's Amutabh Bachchan, and weeks later the elephant was reportedly released to Bannerghatta. All was quiet until last April, when a PETA investigation revealed that Sunder was still suffering in worse conditions than before. Thanks to an irresponsible chain of command and poor follow-up, Sunder's relocation was entrusted to Vinay Kore, the politician who originally gave the elephant as a temple gift in 2007. Kore obviously did not have Sunder's best interests at heart, and simply moved him to a small shack where his abuse continued for nearly two more years.
Shortly after PETA's grim discovery, the Bombay Court ordered his freedom again, but we were skeptical. After all, we'd been fooled before, and without concrete evidence there was no way of knowing Sunder's conditions. But now the proof is finally here!
Getting Sunder to safety was no easy feat. On June 4, Sunder's abusers did all they could to stop rescuers from moving him to freedom. A crowd blew whistles attempting to frighten the elephant, and punctured the tires of his rescue truck with nails.
Never used to human kindness, Sunder hesitated to board the rescue truck, and experts attempted to lure him with fruits and sugarcane. When he still refused to move without his abusive "mahout" (rider), he had to be sedated. Things were still tricky after their departure, as a motorcycle gang followed the police-escorted truck.
After the 25-hour journey, Sunder arrived at his new home, greeted by 12 female elephants and one male. He may have never met animals of his own species before, but veterinarian Dr. Manilal Valliyate of PETA India reports that he looked relieved. Later, a baby elephant ran up to Sunder, startling him.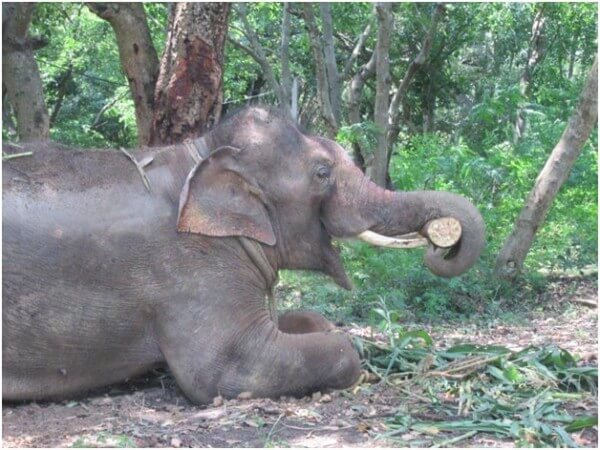 Sunder is currently recovering, but he'll soon be released to share the rest of his many remaining years in comfort with his own kind. The #FREESUNDER campaign was a great success, and raised awareness about the plight of India's temple elephants. Hopefully, Sunder's story will inspire India to take action against other cases of animal abuse in Hindu temples.