An animal collector made the news the other day—a two-headed animal collector, in fact. California resident Todd Ray owns what is now believed to be the largest collection of two-headed animals in the world, according to the Huffington Post.
Todd recently grew his collection with the addition of a bearded dragon named Jeckyl and Hyde: a pint-sized beast with one head that only eats, and another that only drinks. It's not Todd's first two-headed animal nor his first two-headed bearded dragon—he picked up his first six-legged pet named Pancho and Lefty two years ago come May 2012.
Todd also owns a two-headed kingsnake named Laverne and Shirley, a two-headed Albino Hognosed snake named Lenny and Squiggy, and the first three-headed animal ever found in history: a turtle named Myrtle, Squirtle and Thirdle. Many of his double-noggined pets are regular "performers" at the Venice Beach Freakshow in LA.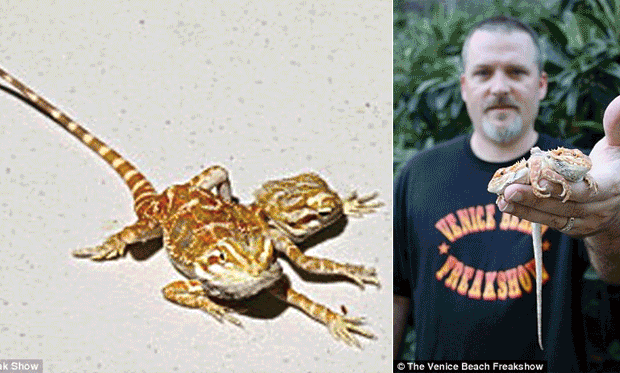 While it is not believed that any of these animals are deformed due to environmental contaminants, such a thing exists—and isn't so cute.
* * * * * * * *
Two big stories concerning environmental toxins were released this week. The first reveals the discovery of a number of "Gulf seafood deformities" that scientific experts and fishermen are attributing to the BP spill.
Al Jazeera was the first to break the widespread discovery of "shrimp without eyes or even eye sockets, snapper with large pink growths, undersized and misshapen crabs." Darla Rooks, a lifelong fisherperson from Port Sulfur, Louisiana, told the news network that she is finding crabs 'with holes in their shells, shells with all the points burned off so all the spikes on their shells and claws are gone, misshapen shells, and crabs that are dying from within.' (Popsci.com)
Watch the video:
[youtube https://www.youtube.com/watch?v=_VVyPiV5xdY]
In other news, the Environmental Protection Agency on Monday said that widely used herbicide 2,4-D would remain on the market, effectively denying an environmental group's petition from to revoke its use and sales.
Not only that, but the hazardous chemical is expected to become substantially more popular in the coming years as approval is sought from the U.S. government to sell seeds of corn genetically engineered to be resistant to the 2,4-D strain.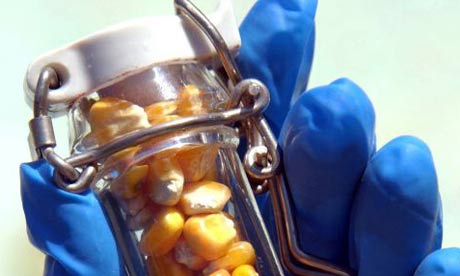 Despite numerous studies citing ill effects of the herbicide in humans including cancer, hormone disruption, genetic mutations and neurotoxicity, 2,4-D is one of the most widely used weed killers in the world, is an ingredient of numerous home lawn-care products, and used heavily by farmers. The environmental group protesting its use also maintains that current regulations underestimate how much people, especially children, might be exposed to the chemical through dust, breast milk and skin contact. (NY Times)
Exposure to toxic chemicals can not only cause you immediate and definite harm, but can create mutations in coming generations of your offspring (which we've already seen occur on a large scale with the tragic Bhopal disaster in India).
Researchers examine the effects of famine in this interesting documentary Epi-Genetics: How Your Ancestors' Famine Might Affect You 100 Years Later.
[youtube https://www.youtube.com/watch?v=szXr642B4QM]