Where did we come from?
Scientists and philosophers have been asking that question since human beings were first able to think.
World renowned primatologist – she practically coined the term – Jane Goodall – has demonstrated our connection to our planet, through our evolution from primates.
Goodall, who turns 80 on April 3, has been travelling around the globe, spreading her message of peaceful, co-existence with nature and each other.
The British Dame was in Toronto last week, lecturing to packed eager audiences, and is in Montreal this week. This "tour" as she called it, is only eight weeks long. Her previous tour had her on the road for three months.
This globetrotting expert on our nearest ancestors shows no sign of slowing down, and even presents a sense of urgency in her lectures on environmentalism, animal protection, and our need for change.
We have failed at protecting the environment for our children, she says. But she acknowledges we know of the issues, and don't know what to do, so we feel helpless.
That's where Goodall's mission begins, as she says her tours are meant to inspire people, by giving people a sense of hope, and that their lives matter, and what they do can make a difference.
Goodall's passion for all living things has driven her success. In 1957 she went to a friend's farm in Kenya's highlands in Africa, where she secured work as a secretary. She reached out to Kenyan archaeologist Louis Leakey, who at the time was looking for a chimpanzee researcher.
Leakey's previous chimpanzee researcher couldn't get near the gorillas, but Goodall's passion gave her the key to getting face-to-face with the chimps – patience.
The key was wearing the same coloured clothing and waiting until the chimps came to you, not going to them too quickly, she says.
"I'd watched animals all my life," she says, as she recounts a tale from her youth. When she was just four-years-old, she hid in the henhouse for four hours, just to see a hen lay one egg.
Her patience paid off, she was the first person to discover that chimpanzees use tools, a trait which previously was thought of being exclusive to human beings.
Leakey mentored Goodall, sending her on her to studies of primate behaviour and then raised funds in 1960 to send her to the Gombe Stream National Park in Tanzania, to study primates up close.
She was forced to bring her mom along, because the park's chief warden was concerned for their safety.
Leakey sent Goodall to Cambridge University in 1962 to earn her Ph.D in Ethology. At the time, she didn't have an undergraduate degree. She became only the eighth person to be allowed to study for a Ph.D without first obtaining an undergraduate degree. She completed her thesis in 1965, which detailed her first five years of studying at the Gombe.
During her studies at Cambridge, she was scorned by her professors for naming her chimpanzee research subjects, instead of numbering them, which was frowned upon in the scientific community.
Goodall insisted they had emotions and distinct personalities, so they deserved to be named, not numbered. She wrote about the non-verbal communication they demonstrated, from hugging and tickling each other, to shaking and chest beating.
Her research on non-verbal communications with primates was groundbreaking, and changed the views of the primate scientists before her.
Goodall grew concerned in the 1970's about our human impact on the natural fury primate species, particularly on the effects of deforestation and the brutal hunts being deployed in the bushmeat trade, which was affecting the chimpanzee population.
Always on a mission of peace and environmentalism, Goodall founded the Jane Goodall Institute in 1977, to continue her research on chimpanzees and to protect their habitats.
After a conference in Chicago in the 1980's, where she saw the horrors of habitat destruction and animal cruelty, she began her "tours" traveling across the globe to spread awareness and inspire change.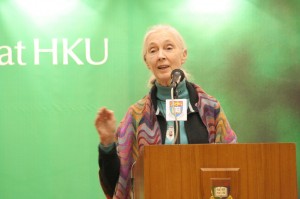 The institute in her namesake now has offices in 23 countries, including one in Montreal, Canada. Her institute has numerous programs to educate people of all ages on the importance of taking care of our planet, and other species.
In 1991, twelve high school kids came to her front door in Tanzania for help, she says. They worked together to create the Roots and Shoots program, to encourage young people to lead community projects that solve local problems affecting humans, animals and the environment. The program has expanded to 136 countries, and has 1,500 groups of young minds sharing in Goodall's mission to better our world, through community involvement.
Goodall may be celebrating her 80th birthday this week, but through her non-stop whirlwind tours across our globe, she's a powerfully youthful inspiration to us all, that regardless of age, we all can make a difference.